Syrian Refugees
Messages Sent So Far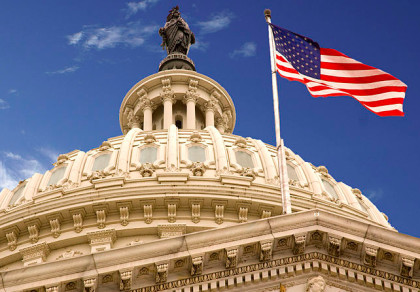 We the People demand that Congress STOP President Obama from allowing Syrian refugees from coming to America. Many of the ones he wants to allow into our country will be those that are desperately poor. These are the same people or many of the same who danced in the street celebrating 9/11, the same people who hate us. We have our share of problems within the USA and sure do not need anymore. Congress must take action before America ends up like Europe with their refugee problems. Bottom line we cannot afford to take these refugees in.
Public Comments
Feb 10th, 2017
Eden G. from Sterling, VA signed.
Feb 10th, 2017
Eden G. from Sterling, VA signed.
Feb 10th, 2017
Andrew W. from Huntersville, NC writes:
http://www.infowars.com/judges-declare-judges-can-grant-immigration-visas-even-when-elected-president-disagrees/ With enough 3rd World, Low IQ rabble imported, the United States will rapidly decline into Dystopian levels
Feb 10th, 2017
Andrew W. from Huntersville, NC writes:
http://www.infowars.com/9th-circuit-has-80-percent-reversal-rate-at-supreme-court/ The United States of America is Infested with Treasonous Groups who wish to see Us destroyed.
Feb 10th, 2017
Someone from Saint Augustine, FL writes:
Even Asaad from Syria has admitted that terrorists are infiltrating the refugees. This is very sad and my heart goes out to the true refugees that are suffering from war, but we must protect our citizens as President Trump has stated. These refugees should be sent to neighboring countries not at war. The government has the duty to protect its citizens, not to be the government for the world.
Feb 9th, 2017
Someone from Rancho Cucamonga, CA writes:
Don't let any immigrants in. Let's be honest. Obama was the worst president ever elected to apiece a group of Americans. Start correcting all your thousands of screw ups.
Feb 9th, 2017
Andrew W. from Huntersville, NC writes:
http://rense.com/general96/rogue_dev.htm EVERYONE please write the following to AG Jeff Session's WHAT EVERY ONE OF US MUST DO: Write a short letter to Jeff Sessions as soon as he's sworn into office. Please, don't waste your time with email. For example: "Dear Attorney General Sessions: As you know, so-called sanctuary cities around this country are protecting illegal aliens from being deported or charged with known crimes and prosecuted. In Travis County, Texas, newly sworn in Sheriff Sally Hernandez has thumbed her nose at Gov. Greg Abbott by not only refusing to stop acting as a sanctuary city, on February 1 & 2, 2017, Hernandez released 39 KNOWN criminal aliens into the general population. Sheriff Hernandez refuses to cooperate with ICE regarding detainers except for murder, aggravated sexual assault or human trafficking. She doesn't give a damn if those criminal illegals she's released commit other crimes like robbery, home invasion, 'simple' assault, kidnapping or any other crime against Americans - including rape or murder. She is committed to protecting illegals by aiding and abetting their ability to remain in this country illegally. I hereby request the Department of Justice convene a federal grand jury to indict and arrest Sheriff Hernandez for violation of any and all applicable federal statutes regarding this blatant refusal to uphold the law. Aren't there enough dead Americans at the hands of illegals, not to mention women and even babies raped by illegal aliens in this country for the federal government to crack down on the enablers? Cordially and your name. * At the bottom put CF which means copy furnished and send a copy to: President Donald Trump, The White House 1600 Pennsylvania Avenue, Washington, DC 20500. It's important for President Trump to know how the American people feel and what they want. Those who support illegals don't hesitate to make their voice heard. As soon as Sessions is sworn in, put a date on the letter, sign and get in the mail to: Attorney General Jeff Sessions, U.S. Department of Justice, 950 Pennsylvania Ave, Washington, DC 20530. It's time the top law enforcement officer in this country starts making an example out of governors, mayors or sheriffs that we will NOT tolerate them or their political bias by ignoring federal laws regarding illegal aliens. Governors and legislatures can stop funding as can Congress, but indicting and prosecuting a slew of them will send the strongest message possible: You not only won't get away with it, you will face jail time. Let the snowflakes and fairies out there demonstrate all they want. Restoring law and order in this country is LONG past due. Americans have been easy pickings long enough. Just wait until one of them is a victim of an illegal alien and see how fast they change their tune. Please use your social media to get the word out. Tens of thousands of one page snail mail letters that can't be ignored will make the difference. I know everyone is busy, but think of the thousands of Americans killed, murdered, raped or victims of other crimes by illegal aliens over the past four decades. We MUST stop the crime wave and I sincerely believe Jeff Sessions will order his DOJ to pursue this to set an example to other elected officials of so-called sanctuary cities."
Feb 8th, 2017
Andrew W. from Huntersville, NC writes:
https://sputniknews.com/us/201702071050409359-usa-state-attorney-generals-against-travel-ban/ 16 Traitor Attorney Generals who are guilty of High Treason and are trying their damndest to put Americans in mortal danger
Feb 8th, 2017
Andrew W. from Huntersville, NC writes:
http://www.dailymail.co.uk/news/article-4203790/British-mother-young-son-sleeping-rough-LA.html How California and Liberals treat WHITE foreigners
Feb 8th, 2017
Andrew W. from Huntersville, NC writes:
http://www.dailymail.co.uk/news/article-4204256/Asylum-seeker-arrested-abusing-18-women-train.html Yet ANOTHER rapefugee molests 18 women in 2 hours
Feb 8th, 2017
Andrew W. from Huntersville, NC writes:
http://rense.com/general96/madonna.htm During the Obama inauguration eight years ago, not one conservative, Republican, Libertarian, Democrat or independent violently demonstrated in the streets, burned cars, yelled obscenities or smashed windows. As fragmented and fractured as we stand today, each year, we import 1.5 million legal and illegal immigrants without pause. That continued act of Congress dooms us to this: ?Diversity within a nation destroys unity and leads to civil wars,? said social scientist Garret Hardin. ?Immigration, a benefit during the youth of a nation, can act as a disease in its mature state. Too much internal diversity in large nations has led to violence and disintegration. We are now in the process of destabilizing our own country. The magic words of destabilizers are ?diversity? and ?multiculturalism?. President Trump presents a springboard (excuse) for all the demonstrators. In reality, the majority of Americans voted for him to protect them from Islamic terror, drugs coming up from the Mexico and enforcing our borders by stopping all illegal immigration. He needs to rescind the 1965 Immigration Reform Act along with his other Executive Orders in order to save us from multicultural chaos and total breakdown of our nation.
Feb 8th, 2017
Meghann Q. from Traverse City, MI signed.
Feb 8th, 2017
Dawn R. from Mount Sterling, OH signed.
Feb 8th, 2017
Dawn R. from Mount Sterling, OH signed.
Feb 7th, 2017
ROGER R. from Port Saint Lucie, FL writes:
congress must take action to stop refugees from coming to america we are deep in trouble with crime in our city's
Feb 6th, 2017
Andrew K. from Dearborn Heights, MI signed.
Feb 6th, 2017
Andrew W. from Huntersville, NC writes:
http://www.informationliberation.com/?id=56230 Tell that idiot Judge to go phuck himself, Even though the majority of Americans as well as the entire Trump administration do not want so-called "refugees" brought into America, they're being forced down our throat by the deep state. This is straight treason. From RT: The US State Department is set to resume admitting refugees, including asylum-seekers from Syria, on Monday, after a federal judge blocked the Trump administration's controversial ban on refugee admissions from 7 majority-Muslim countries. .
Feb 6th, 2017
Andrew W. from Huntersville, NC writes:
http://www.breitbart.com/california/2017/02/05/california-state-senate-leader-family-illegal-false-documents-deportation/ Traitor California Senate Leader, Kevin De Leon brags ?half his family? was in the country illegally, using false documents, and eligible for deportation under President Trump?s new executive order against ?sanctuary? jurisdictions.
Feb 6th, 2017
Someone from Sun City, CA writes:
Why does the United States continue to get involved in the issues of the Middle East? The people would not be migrating so quickly and bringing their problems with them had we let them alone to begin with. We do not have solutions for our own troubles! Why pretend to be able to solve theirs? We don't need more people or more problems here! Stop offering help that we cannot provide!
Feb 5th, 2017
Andrew W. from Huntersville, NC writes:
https://www.youtube.com/watch?v=97psdiAMEhQ Traitor Texas Sheriff released 39 dangerous criminal illegal aliens during her first 2 days of policy. Hang this stupid b!tch
Feb 5th, 2017
Someone from Lemon Grove, CA writes:
666 = Mulsliums AMERICAS FUTURE 666 YOU either Worship Allah or Die !!! 'NO MEXICANS OR SOUTH OR CENTRAL AMERICANS THAT ARE OUR PEOPLE, SO WHY SHOULD WE LET IN MUSLIUMS, refugees, people WHO WORSHIP ALLAH, AND THEIR INTENTIONS ARE TO; TAKE OVER (USA)& KILL THE INFIDEL (NAIVE, ignorant, Americans) GO TO OUR BOREDER AND FEED OUR OWN PROBLEM, OBAMA FOR MUSLIUMS,WERE NOT MUSLIUM COUNTRY (getting close their everywhere, more than Mexicans, got the Mexicans out funny how they are already here, where did all the Mexicans GO?? Made room for MUSLUIMS thank OBAMA...STAY HOME.... Sorry & God bless I heard Vets (veterans) are CURSED in Iraq & Iran, which is why they hear voices & commit suicide !! PRAY, PRAY, the prayer at the Airport was to eventually to take over, LORDS will be done... HE'S COMING....DONT GET LEFT BEHIND...
Feb 5th, 2017
Andrew W. from Huntersville, NC writes:
http://www.cnn.com/2017/02/04/politics/judge-james-robart-travel-ban-profile/index.html Meet the idiot Traitor who continues to put Americans in danger, Judge James Robart
Feb 4th, 2017
Andrew W. from Huntersville, NC writes:
https://www.rt.com/usa/376269-muslim-ban-nationwide-halt/ "US District Court Judge James Robart has issued a nationwide, temporary restraining order against enforcing President Donald Trump?s executive order banning nationals from seven majority-Muslim countries from entering the US. The State Department, since being notified by the Justice Department of the ruling from the US District Court for the Western District of Washington, has been in contact with the Homeland Security Department and legal teams to coordinate operations, according to Reuters. Customs and Border Protection officials said they would reinstate visas in compliance with the order." How in the hell is this possible? How can Obama appointed, Idiot judges defy President Trump? There was not a single peep out of these Judicial Charlatans while Obama was running ripshod doing whatever he wanted
Feb 4th, 2017
Someone from Hayes, VA writes:
We should and need to take care of the people we have in our country. Take care of the homeless and our Military vets. These refugees will take up resources and jobs, we need to help our own first! It's sickening that people our more willing to help a refugee than an American citizen homeless on the streets. The congressman for VA does not speak for me when he says VA wants the refugees here. I do not
Feb 3rd, 2017
timothy b. from Columbus, OH writes:
we need to feed and house all our homeless, and we have lots of people who have mental health issues that we need to help, the problem is big.am tired of seeing all this in our city,and we cant afford to take care of others who already live here.we are the people...so start giving
Feb 3rd, 2017
Someone from columbus, OH signed.
Feb 3rd, 2017
Richard M. from Lake Havasu City, AZ writes:
We need a 5-6 year or more moratorium on all refugees plus legal immigrants we are OVERWHELMED WITH THEM NOW ! we have what 330,000,000 million people and we let in ONE MILLION PEOPLE LEGALLY EACH YEAR that is way to many and is OUT OF CONTROL ! THIS MUST STOP !
Feb 2nd, 2017
Austin B. from Cheyenne, WY writes:
NO syrian refugees should be allowed into the United States, period!!! America first!! Wake up Washington DC!!
Feb 2nd, 2017
Kari S. from Boise, ID signed.
Feb 1st, 2017
Tracey M. from Camp, AR writes:
Feb 1st, 2017
Andrew W. from Huntersville, NC writes:
http://dailycaller.com/2017/01/31/nancy-pelosi-caught-on-hot-mic-tell-them-youre-a-muslim-video/#ixzz4XNthYDXc Goggle-Eyed Traitor, Nancy Pelosi, caught telling a congressman to fake being Muslim. This old hag has long since been a treasonous geriatric to American people. She should be impeached and imprisoned.
Feb 1st, 2017
Paula M. from Roslindale, MA signed.
Feb 1st, 2017
Andrew W. from Huntersville, NC writes:
http://www.newswithviews.com/Devvy/kidd759.htm We know illegals are voting. Their state legislature has been dominated by racists and Marxists for DECADES and lunatics for governors; former cocaine snorting current governor Jerry Brown and Arnold the idiot Schwarzenegger to name two. Their former Attorney General, Kamala Harris, is a stinking communist. She took retiring Senator Barbara Boxer's seat so we have another Red in Congress. "If anyone's going to be deported, it's going to be you! ... Get out! We are the future. You're old and tired. Go on. We have beaten you - leave like beaten rats. You old white people, it is your duty to die. Right now, we're already controlling those elections, whether it's by violence or nonviolence. Through love of having children we're going to take over." Augustin Cebada, information minister of Brown Berets, militant para-military soldiers of Aztlan shouting at U.S. citizens at an Independence Day rally in Los Angeles. In other words and also politically incorrect, they're going to out breed everyone else. I'm also sick to death of hearing the bleeding hearts with their "breaking up families" BS. You deport the minors right along with their illegal parents. Children born of Mexican parents on U.S. soil are NOT 'anchor babies' or U.S. citizens. They are citizens of Mexico; see my column here. Remember the San Bernadino killers? The husband and wife team? Think those San Bernadino killers swam here from Afghanistan? Now they can fly into Canada posing as refugees. We know from factual and documented incidents too many Muslim terrorists pose as refugees. OUR national security and the safety of the people of this country take precedence, as Col. Sellin said above, over 'emotionally satisfying gestures'."
Feb 1st, 2017
Andrew W. from Huntersville, NC writes:
https://jonrappoport.wordpress.com/2017/01/31/obama-is-back-and-this-is-what-will-happen/ Obama is back to cause more trouble for Trump and America, empowering all the Liberal ding-a-lings who want this nation flooded with refugees, illegal aliens and guest workers
Jan 31st, 2017
Michael H. from Birmingham, AL writes:
Do not allow Syrian "refugees" anywhere in Alabama.
Jan 31st, 2017
Andrew W. from Huntersville, NC writes:
http://www.informationliberation.com/?id=56194 20 'Vetted' Refugees Who Turned to Terrorism After Being Allowed Into America
Jan 31st, 2017
Andrew W. from Huntersville, NC writes:
http://www.thegatewaypundit.com/2017/01/surprise-muslim-brotherhood-behind-anti-trump-airport-protests-video/ gyptian Americans for Democracy and Human Rights (EADHR) is a radical group sympathetic to the Muslim Brotherhood and former President Morsi. Unfortunately CNN is too busy slamming President Trump and promoting a specific narrative, instead of investigating WHO is doing the protesting.
Jan 31st, 2017
Andrew W. from Huntersville, NC writes:
http://www.breitbart.com/big-government/2015/11/29/unholy-alliance-christian-charities-profit-1-billion-fed-program-resettle-refugees-40-percent-muslim/ Refugee resettlement is profitable to the organizations involved in it. They receive money from the federal government for each refugee they bring over. They have almost no real responsibilities for these refugees. After 4 months the ?sponsoring? organization is not even required to know where the refugee lives. Despite claims that these Muslim refugees have been ?vetted? to keep out terrorists, numerous reports, including those by the Department of Homeland Security and FBI, indicate that this process is flawed, especially for refugees from countries like Syria, where virtually no data bases to perform background checks exist. Of the approximately 2,000 Syrian refugees who have come to the United States over the past several years, an estimated 97 percent are Muslim.
Jan 31st, 2017
Someone from Vaughn, MT writes:
The beliefs they have for peace and humanity are total opposite of our beliefs and laws.
Jan 30th, 2017
Sharon M. from Williamsburg, KY signed.