Syrian Refugees
Messages Sent So Far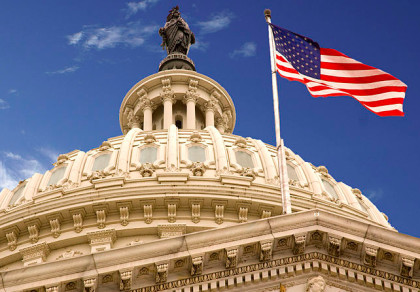 We the People demand that Congress STOP President Obama from allowing Syrian refugees from coming to America. Many of the ones he wants to allow into our country will be those that are desperately poor. These are the same people or many of the same who danced in the street celebrating 9/11, the same people who hate us. We have our share of problems within the USA and sure do not need anymore. Congress must take action before America ends up like Europe with their refugee problems. Bottom line we cannot afford to take these refugees in.
Public Comments
Jul 2nd, 2018
Clarissa T. from Tucson, AZ signed.
Dec 24th, 2017
Angela B. from Elyria, OH writes:
Caught the school system in Ohio teaching Islam, teaching children shariah law will be implemented in the U.S., so they need to prepare.
Nov 25th, 2017
Paul T. from Lynchburg, VA writes:
Iran promises to send warships to Gulf of Mexico, Atlantic Ocean... https://www.nbcnews.com/news/world/iran-promises-send-warships-gulf-mexico -atlantic-ocean-n823596 ===== OBAMA'S IRAINIAN DEAL IS NOW IRAN'S STRENGTH AGAINST US... WOW, WHO WOULD HAVE EVER THOUGHT THIS ABOUT FRIENDLY IRAN??? NOW CAN WE PLEASE HAVE OBAMA EXECUTED FOR HIS TREASON AGAINST AMERICA???
Nov 16th, 2017
Someone from Boaz, AL writes:
No refugees American first build that Wall.
Nov 8th, 2017
Someone from Chula Vista, CA writes:
No to Syrian migrants, these people do not adopt the way of living and values from different societies and cultures.
Nov 3rd, 2017
Todd K. from Mandan, ND signed.
Oct 28th, 2017
gerald t. from Syracuse, NY writes:
Care for citizens born in the United States first.
Oct 26th, 2017
simon m. from Andover, NJ signed.
Oct 26th, 2017
simon m. from Andover, NJ signed.
Oct 25th, 2017
Kate C. from Plano, TX writes:
Keep them out ! They don't assimilate! They are more trouble than they are worth! We don't want their shariah law here! We don't want to be like Europe!
Oct 12th, 2017
Alice C. from Brandon, FL signed.
Sep 30th, 2017
DIA R. from Minneapolis, MN signed.
Sep 11th, 2017
Patricia P. from Inglewood, CA writes:
We need to close the border we can't allow the Syrian refugees because they might not be safe for our country
Sep 10th, 2017
Someone from Dallas, TX writes:
IN CASE YOU MISSED THIS-- Arrested ISIS Leader Makes BOMBSHELL Confession About Barack Obama-- Yousaf al-Salafi told his captors $600 was sent to him through American institutions for every soldier he recruited and sent to fight for ISIS in Syria. --WHY IS OBAMA STILL ALIVE AND FLURISHING ON OUR MONEY?-- https://www.teaparty.org/arrested-isis-leader-makes-bombshell-confession-barack-obama-230104/
Sep 8th, 2017
Don G. from Bartow, FL writes:
'Soros Caught Helping Kim Jong-Un' https://www.christiannewsalerts.com/soros-caught-helping-kim-jong-un/ SINCE WHEN DOES AMERICA LET TRAITORS RUN FREE???
Sep 5th, 2017
Aabidullah R. from Dearborn, MI writes:
My parents and I came here from Syria in 2010 making me a so-called Dreamer under the DOCA act. Now they are trying to do away with the rights President Obama gave us. This is discriminatory racism against Muslims. This is our country too and Sharia Law will soon rule. Bring back Barack Obama so we can be iegal.
Aug 24th, 2017
Katie N. from Sacramento, CA writes:
The people should remain silent and let Congress handle this. Within the next 20 years or so the'll come up with something.
Aug 24th, 2017
BobBoring b. from Maryville, TN signed.
Aug 24th, 2017
BobBoring b. from Maryville, TN signed.
Aug 24th, 2017
BobBoring b. from Maryville, TN signed.
Aug 24th, 2017
BobBoring b. from Maryville, TN signed.
Aug 24th, 2017
BobBoring b. from Maryville, TN signed.
Aug 24th, 2017
BobBoring b. from Maryville, TN signed.
Aug 24th, 2017
BobBoring b. from Maryville, TN signed.
Aug 22nd, 2017
Someone from Westland, MI writes:
LIVE STREAM: President Donald Trump Holds MASSIVE Rally in Phoenix, AZ 8/22/17 https://www.youtube.com/watch?v=1RturpZ8Ato
Aug 20th, 2017
Sally R. from Louisville, KY writes:
Old, but they same is true today for ALL refugees. There is no good to come from allowing those that have been exposed to decades of violence to come to a country so different from their own. They're usually unable to assimilate, and most likely to repeat the violence and evil they fled. Instead, we want our money used to make safe spaces in their own country. There should be no shame whatsoever in wanting to keep our country American! Stop trying to change our country, by shaming those that love the American country with false terms of racism and bigotry. The racism and bigotry belongs to those that refuse to be proud of and fight for their own race, ethnicity and culture. If your okay with a black group proud to be black, but not of a white group, you are the racist! We love Americans of all ethnicity, we do not need to import other ethnicities because it looks good on TV! That is sick.
Aug 19th, 2017
Someone from Kennesaw, GA writes:
BREAKING GOP Senators Just Gave George Soros The Worst News Of His Life He has a stated goal of bringing down the United States. Taxpayer dollars supporting extreme and sometimes violent political activists. https://www.youtube.com/watch?v=w4YMJuCfKDc
Aug 16th, 2017
Someone from Marysville, OH writes:
Hamas-Linked CAIR Demands Every Confederate Statue be Removed Immediately http://www.thegatewaypundit.com/2017/08/hamas-linked-cair-demands-every-confederate-statue-removed-immediately/
Aug 14th, 2017
Aabid A. from Bedford Hills, NY writes:
'FINAL WARNING' TO 'WHITE PEOPLE' GOES VIRAL ON TWITTER AFTER CHARLOTTESVILLE RALLY https://streamable.com/qblpg White People Beware, The Land of the Apes is coming soon to a City near You!
Aug 1st, 2017
Someone from Apo, AP writes:
JUST IN! FAMOUS DEM CAUGHT SELLING SECRETS TO OUR ENEMIES! https://www.youtube.com/watch?v=UGZ-wouESaA ==== OBAMA AND THE MUSLIM BROTHERHOOD ARE THE ROOTS BEHIND IT ALL. DON'T PUT OBAMA IN JAIL, HANG THE TRAITOR!!!!!!!!!!!!!!!!
Jul 29th, 2017
Someone from Granite Falls, WA writes:
Keep them out and 'LOCK HER UP"
Jul 28th, 2017
Someone from Orange, CA writes:
NO refugees coming to the USA. America needs to take care of her own people, help them get back to work and improve our economy. Allowing too many immigrants/refugees/foreigners never works. Unless people love their new country and assimilate into it, it's a failure for everyone and far too expensive on the US taxpayer. People need to right their own nations and stay put. We did it, so can others.
Jul 26th, 2017
Anderson C. from New York, NY writes:
Make that Pre teen boys only.
Jul 22nd, 2017
Someone from FORT WAYNE, IN writes:
Jul 13th, 2017
Hennadiy B. from Carol Stream, IL writes:
Stop 3rd world immigration!!!!
Jul 10th, 2017
Amanda d. from lincoln park, MI writes:
America is diversified enough. We don't need to take in anymore refugees we need to focus on the millions of Americans that need help. America First!!
Jul 6th, 2017
Andrew W. from Huntersville, NC writes:
Impeach Obama Impeach Obama Impeach Obama Impeach Obama Something's up all the Impeach Obama Petitions have been removed Impeach Obama Impeach Obama Impeach Obama Impeach Obama
Jul 4th, 2017
Someone from Dpo, AE writes:
It's time for America to give Kim Jong-un an Osama bin Laden assassination. KILL this murder loving lunatic before he kills us. We don't have time to discuss it in Congress, just do it or die wishing we had. Send in the SEALS.
Jul 3rd, 2017
Andrew W. from Huntersville, NC writes:
Jul 1st, 2017
Sonya G. from Social Circle, GA writes:
Last night was unreal on a Senators' Intelligence Committee when black dart from nowhere in seconds had more than any or could it be less than anyone ever knew. That was it after in the back of the house more and more came in but only to confuse us like dew on morning grass has been here longer than ever equal. Even if it were DIRECTED ENERGY WEAPONS this way before NO ONE can see what's coming to pass. Get it now or else sick and tired of these nasty, gay mafia days are ending soon. It's more like a black candel or it could be even greater than anyone but we have to start before the end or what's the since the Tumor on my left Ovary because three times the amount we had before it evaperated. Some feel this is correct complaint against Harry Reid (D., Nev.) Chairwoman Barbara Boxer (D., Calif.) Andrew W. and lots and lots can do even worse. Get it together before Drones "'CHEMTRAILS' WEAPONS SYSTEM spying on you Senator Feinstein. If you think for a minute FBI COINTELPRO'S can tell then it must be TRUE If it's on the Internet. Let's make it CLEAR even if no one can see before something else can come around. For me can be tight or oven very loose so Start Now or it WILL BE LOST FORVER. Please read more by copy and paste below us. Radiation melting brain must go now. LAST CHANCE!!!! IMPALE HARRY REID WITH OBAMA!!!