We Support HR 193 (formerly HR 1205), The American Sovereignty Restoration Act
Messages Sent So Far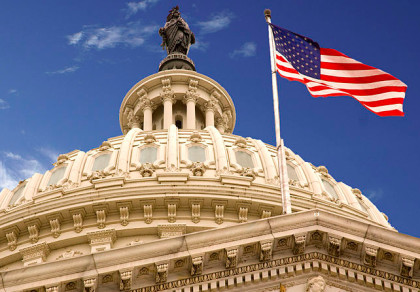 We Support HR 193, The American Sovereignty Restoration Act

October 24th, UN Day, should be "celebrated" as a Day of Shame. In the spirit of #Brexit, every United States Congressman should support #Amexit, by supporting HR 193 The American Sovereignty Restoration Act. Congressmen take an oath to uphold and defend the United States Constitution. United States Sovereignty is at stake! The U.S. Constitution is the Supreme law of the Land in our Republic. Our ties to the UN and it's many agreements steal our sovereignty, by binding us to nations whose governments are hostile to liberty, such as Communist China. According to the Constitution, only Congress is authorized to declare war. Now the President sends our military to war under authority of the UN. It's a disgrace for our loyal American military to be associated with "UN peacekeepers", who have a record of exploiting women and children in Haiti, Congo, Bosnia, the Central African Republic, and elsewhere.

American tax dollars support the UN as it promotes:

Unrestricted abortion - (UN Human Rights Committee report 2016)

International Common-Core Education - International Baccalaureate (IB)

Abolition of the right to keep and bear arms - the UN's Programme of Action on Small Arms and Light Weapons

Sovereignty-destroying trade pacts - NAFTA and the TPP

Control over property - Agenda 21 (now Agenda 2030)

"Refugee" relocation at the whim of the UN High Commissioner for Refugees

We thank Congressman Rogers for re-introducing HR 1205, as HR 193 "To end membership of the United States in the United Nations". Every Congressman needs to support it, if they wish to keep their oath of office. We urge the Senate to pass companion legislation.

Sources: https://federalexpression.wordpress.com/2016/10/15/united-nations-day-of-shame-october-24th/
Public Comments
Feb 6th, 2017
Jorge G. from Fort Lauderdale, FL writes:
Nothing will completely change or the process will be so slow. That the globalist will have time to regroup. Unless we demand to cut all financial and agreement ties. With the United Nations, World Bank, IMF and Federal Reserve.
Feb 4th, 2017
Someone from Lodi, CA writes:
We must defeat the unelected global super-elite by restoring American Sovereignty. US self determination is the only thread holding national and personal freedom together as it was intended by the founders of USA.
Feb 4th, 2017
Someone from Greencastle, PA signed.
Feb 3rd, 2017
James l. from Kansas City, MO writes:
I completely support hr193 no organization should dictate to a country what it should or shouldn't do.sovereignty is very key to sustain liberty
Feb 3rd, 2017
KATHY JO W. from GRANTS PASS,, OR writes:
GET US OUT OF THE UN AND GET THE UN OUT OF THE USA. THE UN IS NOT OUR FRIEND!
Feb 2nd, 2017
Someone from Rancho Cucamonga, CA writes:
Please get out of the UN!
Feb 2nd, 2017
ELDON P. from Clovis, CA writes:
Feb 1st, 2017
Someone from Glendale, CA writes:
Jan 28th, 2017
Michael E. from Stetsonville, WI writes:
We to disconnect from the UN completely, get it off of American soil.
Jan 28th, 2017
Travis J. from Hilham, TN writes:
Finally a glimmer of intelligence among a sea of ignorance. Every site on the web is bashing this decision to exit the UN. These people are sooo misinformed. I guess forced vaccinated, dumbed down,and disarmed, is okay with them. Not me Buck-o. Thank you Congressman Rogers. A TRUE American.
Jan 24th, 2017
Someone from Syracuse, NY signed.
Jan 24th, 2017
Allan B. from Port Richey, FL writes:
The United Nations is undermining the freedom of the United Nations and undermining America's finances and moral values. Get us out from The United Nations.
Jan 24th, 2017
Brian P. from Garland, TX signed.
Jan 23rd, 2017
Someone from Roscommon, MI writes:
I support H.R. 193. THe UN has changed from it's original founding policies and is corrupted. Funds used to support the UN could be better used to help Americans in America. Agenda 21 and other policies are not in the best interests of sovereign countries.
Jan 22nd, 2017
Jason G. from Rainier, OR writes:
Get us OUT OF THE U.N.!! We the People are to decide our own destiny!!
Jan 22nd, 2017
Someone from Omaha, NE writes:
This is the most asinine piece of legislation to come out of Congress. We would forfeit our seat on the UN Security Council. It would be Russia, China, and a little bit of Europe. Is this what we really want? This would be a political disaster. Shame on Mike Rogers for this!
Jan 22nd, 2017
Cristine D. from Vancouver, WA writes:
I do not support leaving the United Nations. This legislation is dangerous to the U.S. and to the world.
Jan 22nd, 2017
Someone from Eielson Afb, AK writes:
This one step..there are others...strengthening the constitutional process by eliminating the use of unconstitutional precedent by the SCOTUS...strenthening the 2nd amendment...defining jury nullification prior to every jury trial and not allowing jury rigging...eliminating all unconstitutional government departments...eliminating the federal reserve central corporation banks...strengthening the border...eliminating residential property fees...strengthening the individual and state rights over the federal rights...are just a few others. Decentralizing the federal government without decentralizing corporation structures is useless...eliminate lobbyists power completely.
Jan 22nd, 2017
Tamra B. from Bath, ME writes:
"American taxpayers will pony up around $3.024 billion this year towards the United Nations? regular and peacekeeping budgets, more than what 185 other countries combined are paying" (CNS Patrick Goodenough) Even though the US pays more to be a member, it has less representation in global policy making -Rampant budget inconsistencies in UN Programs -Lack of transparency and Responsibility for Policy failure -Lack of authority for members to audit the viability of UN programs and program expenditures -Questionable Health and safety of policies, research, and business partners within the operation o f UN World Food Programme
Jan 22nd, 2017
US C. from Chicago, IL writes:
Jan 12th, 2017
Roseann A. from Huntingdon Valley, PA writes:
I support HR 193 which would get us out of the UN. Roseann Affleck
Jan 12th, 2017
Debbie A. from Huntingdon Valley, PA signed.
Jan 10th, 2017
Jon A. from Huntingdon Valley, PA signed.
Jan 3rd, 2017
Someone from Bernardsville, NJ signed.
Dec 29th, 2016
Therese R. from Tucson, AZ writes:
Israel is a sovereign nation, the only Jewish Homeland found in the world, and the only democracy found in the middle east. It has the right to exist in its entirety, unfettered by the proposals placed upon it by anti-semitic nations and the United States, for that matter.
Dec 29th, 2016
John M. from Landenberg, PA writes:
Thank you for proposing this legislation. We should not be involved in the UN as they are a threat to our liberty and the ideas of our founding fathers. We should also end all military aid to the middle east and use that money for our failing infrastructure. Instead of supporting an apartheid state committing genocide.
Dec 28th, 2016
Michael Z. from Sacramento, CA signed.
Dec 27th, 2016
Clifford D. from Sacramento, CA signed.
Dec 27th, 2016
Someone from Sacramento, CA writes:
Mr. Obama has clearly shown himself to be a coward, sneak and liar! He stabs our only remaining ally in the Middle East, the only democratic ally right in the back, thinking this sinister act will crown his list of so called achievements for his self-agrandizing legacy. This imperious martinet has the blood of every Jewish and Christian martyr on his hands.
Dec 24th, 2016
Carl from Inverness, FL writes:
Help our incoming President Donald Trump make America great again. We need to regain and restore our sovereignty as the single most important thing to accomplish during this next administration. We can then be unencumbered by other governments and agendas they have including the slow slide to one world government. We need our FREEDOM here in America. If we are not FREE we cannot help anyone be free. We are the island.
Dec 24th, 2016
Azita K. from Beverly Hills, CA signed.
Dec 4th, 2016
Someone from Brandon, SD signed.
Dec 4th, 2016
Timothy M. from Brandon, SD signed.
Nov 23rd, 2016
David A. from Huntingdon Valley, PA writes:
Don't believe the lie that getting out of the UN is the same as isolationism. We should have diplomatic relationships with other nations. Why do we need to be in the UN for that? We can trade and negotiate with nations, without giving up our sovereignty to an all-powerful world body. Being part of the 21st century means learning not to repeat the mistakes of the 20th century!!!
Nov 11th, 2016
Someone from Tecumseh, MI writes:
This is about the sickest thing I've read in a long time!! There is a huge difference between sovereignty and arrogant isolationism. If we have any desire at all to influence other nations we have to remain in relationship to them. For heaven's sake get yourselves into the 21st century!!!
Nov 4th, 2016
Tom W. from Richboro, PA writes:
America sovereignty, its time to wrestle it back. We won't accept the UN international morals being mandated because of our politicians and mega corps grobal interests, Enough is enough!.
Oct 27th, 2016
Rhonda D. from Oneonta, AL signed.
Oct 17th, 2016
Roseann A. from Huntingdon Valley, PA writes:
Because of our membership in the UN, we have subjected our nation to countless international regulations and laws that are destroying our Constitution and our sovereignty. Through passage of HR1205 we can begin to restore our country to its former greatness.
Oct 17th, 2016
Someone from Knightdale, NC signed.
Oct 16th, 2016
Lauren B. from Philadelphia, PA signed.