WE WOULD LIKE TO SEE A FEDERAL BAN ON BREED DISCRIMINATION AND LEGISLATION
Messages Sent So Far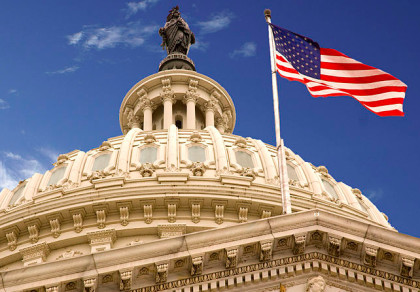 For some time I have been watching as Dogs die in the name of Breed Specific Legislation. Many dogs have been ripped from their owners arms to be brought to what is referred to as "Pit Bull Row". <br />
<br />
Sadly they took dogs that were microchipped and licensed, first, because it was said they could find them easiest. The American Pit Bull was America's Dog, Loved by children and adults alike.<br />
<br />
I have been watching the Legislation...It will repeal in one town or state, and then be written into another town or state..people are moving from town to town to save their dogs ....only to find the next town they go to may be thinking of BSL. During WWII the Nazis were held accountable for the deaths they incurred in Auschwitz, the Jews they murdered and discriminated against...What politicians are doing to these dogs is no different...THe problem is not the Breed..IT is the Owners.<br />
<br />
Please sit back and if possible look at the family Dog and think of how it would be to watch Animal Control take it away, knowing it would be the last time you would see that dog alive..Breed Discrimination has gone wild and is being twisted by some individuals with a personal vendetta against these breeds...An ax to grind. I understand these dogs are often taken and used by Criminals for Dogfighting, but if you take the dogs from the honest you will still leave them with the Criminals.<br />
<br />
They do not license and protect their dogs...I am not a Lobbyist nor am I a politician, but I do know that this is Animal Cruelty Awareness Month and it is time to stop the cruel practice of Banning The Breed. While many have already lost their dogs to the horrific Gas Chamber ( they used that also in Auschwitz) I am sure it would help them if they saw that the tide had turned. Please consider a Bill enacting Legislation to prevent Canine Breed Discrimination.<br />
<br />
As you already have eliminated Discrimination from the Service Dog. We the people have faith you can do this.
Post Public Comments
Public Comments (765)
Nov 9th, 2016
John B. from Las Vegas, NV signed.
Sep 28th, 2016
Lindsey S. from Benton, AR signed.
Oct 30th, 2015
Someone from Omaha, NE signed.
Oct 26th, 2015
Someone from Wasilla, AK writes:
Breed banning is so discustingly cowardly, brainless, and pointless. Every breed has aggressive ones. People are the same way. The fear controlled people responsible for this breed ban are being aggressive. They are totally banning for what they themselves are doing, being aggressive. Irrational decisions based on fear. What else is new?
Oct 25th, 2015
Someone from Fairbanks, AK signed.
Oct 25th, 2015
Someone from Fairbanks, AK writes:
Aggression is usually caused by fear, so if a dog of any breed has a hostile demeanor, it's most likely due to a careless owner. Dogs of any size or stature have the same harmful potential if given an abusive or unknowlegable caregiver, so to blame one specific breed based on the strength us humans once admired historically should be a bold reminder of how people are creating these vicious events by failing to acknowledge their own part in preventing their occurrence! In my opinion, if you would like to discriminate on the violent behavior displayed by any breed (German shepard, rottweiler, pitbull, etc.) by exhialing them over their fear of our species, don't forget that it was taught by the poor behavior of the "responsible" owner who can and most likely will do it again. Discriminate hatred.. Not the breeds that endured it to become that way..
Oct 17th, 2014
Someone from Sikeston, MO writes:
To discriminate against an entire breed of animal from the actions of a few is simply racism at its finest.
Oct 17th, 2014
Someone from Sikeston, MO writes:
To discriminate against an entire breed of animal from the actions of a few is simply racism at its finest.
Apr 25th, 2014
Someone from Tarawa Terrace, NC writes:
The breeds aren't the problem, the people that raise them are!
Apr 25th, 2014
Someone from Jacksonville, NC writes:
I hate it and constantly feel sick bc people here are too ignorant to realize first off IT'S NOT THE DOG, IT'S THE OWNER!!! Secondly, When someone makes you re-home a pet bc of discrimination, they tear apart of your heart out, they break that trust/ love bond, and they potentially kill another animal that didn't deserve it. Thirdly, despite handling many dogs for a living animal control officers and most vets are not trained in breed identification. For the most part, they are no better than average citizens at breed identification so they have no idea if they are labeling dogs correctly or incorrectly. I could go on and on..... BUT.. What I want from this post is people to acknowledge and SHARE>>> Start standing up and speaking for the voiceless... Discrimination is discrimination is discrimination- doesn't matter if it's Speciesism, Breed Specific, Racial, Gender, Religious or any other type of discrimination.... IT'S WRONG.... PERIOD!!