Stop the Title 5 Repeal!
Messages Sent So Far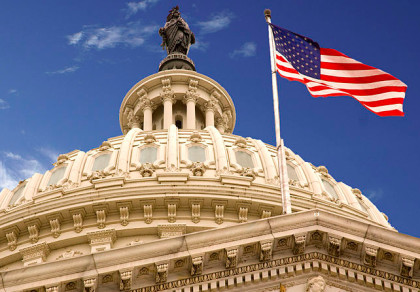 The FY16 NDAA contained Section 1053, a bi-partisan provision that ordered the conversion of no less than 20% of all National Guard (NG) Dual Status technicians (DSTs) from Title 32 to Title 5 employment to begin on January 1, 2017. The National Guard Bureau (NGB), the Adjutant Generals Association (AGAUS), the National Guard Association (NGAUS), and the Council of Governors (CoG) strongly opposed the law and called for its outright repeal citing unsupported claims of increased cost and reduced readiness. Senator John McCain, SASC Chairman, and Senator Jack Reed, SASC Ranking Member, strongly rejected the calls for repeal, and Section 1053 was ultimately included in the 2016 defense bill. <br />
<br />
After repeal efforts failed, opponents of Section 1053 asked that language be included in the FY17 NDAA to delay conversion until at least October 1, 2017, under the guise that: 1. It would align the conversion with the beginning of FY18; and, 2. It would allow leaders some time to ensure a smooth transition for affected employees. The House and Senate Armed Services Committees (HASC/SASC) agreed to the proposal as presented, and included draft language in the FY17 NDAA to delay the conversion. <br />
<br />
Supporters of Section 1053 warned HASC/SASC, and other members of Congress that calls to delay were merely a veiled attempt to give NGB, AGAUS, NGAUS, and CoG one more crack at repealing Section 1053 in the FY18 NDAA. It appears the warnings were justified as Section 1053 opponents are renewing their push for a full repeal of Section 1053 now, rather than later, during the election season, through the lame duck session, and before the FY17 NDAA is even signed. For the reasons stated below, I strongly urge you to oppose any effort calling for the repeal of Section 1053.<br />
<br />
The NG DST program is over 100 years old. I believe the program is outdated, and the changes mandated in Section 1053 are a great start towards modernizing this force. The new law streamlines administration, cuts overall operating costs to the US Government, and allows technicians access to due process.<br />
<br />
Concerning due process, technicians do not enjoy the full due process protections guaranteed to other federal employees because current law limits appeals of adverse employment actions to their respective State Adjutants General. As such, these employees cannot appeal to an arbitrator, the Merit Systems Protection Board, the Office of Special Counsel, or even Federal Court, which means they are also not protected as under Federal Whistleblower laws. The result is a program that is often susceptible to fraud, waste, and abuse, and is the only program in the federal government where the person who fires you also hears and decides your appeal.<br />
<br />
The changes required by Section 1053 are the start of much-needed reform. The law is based on the independent report prepared by the Center for Naval Analysis at the direction of Congress in section 519 of the 2012 defense bill. It takes a conservative approach and gives National Guard and State authorities the ability to provide input on how the transition should occur, including how best to maintain these employees under the control of State AGs, all while affording them the rights enjoyed by every other federal civilian employee. Section 1053 will allow these employees an opportunity to reach full civilian retirement age, provide access to federal appeal rights, and simultaneously correct other inconsistencies that only affect this small but much-needed workforce.<br />
<br />
Thank you for your attention to this very important matter.
Post Public Comments
Public Comments (570)
Sep 23rd, 2017
Issac S. from Hattiesburg, MS writes:
Title 5 will never happen-because its the Guard that is paramount, governors and officers must have their thumb on people. Dual status is a tool that accomplishes that. Dual status is a Guard bureaucracy put in place to rob soldiers of active duty benefits and pay while holding them to active duty standards. The big picture: getting out of the guard and retaining federal job does not benefit the *******s in control.
Sep 12th, 2017
Someone from Bismarck, ND writes:
Stop the title 5 Repeal. If you want to reduce fraud, and give technicians due process in EEO proceedings pass Title 5 immediately!!
Sep 7th, 2017
Someone from Elkton, MD writes:
Does anyone know if I am currently a T32 DA civilian DS on the bottom of my SF52, when I convert will I still be a DA civilian? I get a child care subsidy that I cannot afford to lose (I am not near a base so they pay a huge chunk of my bill ). My HRO has no answers or I get mixed info.
Sep 7th, 2017
Someone from Browns Mills, NJ writes:
The repeals need to seize and allow Technicians the right to due process as any other citizen through Title 5. Title 32 should have been ended years ago. Through the years, times have changed and many old laws need to be updated or just redone altogether. Stop the repeals and the discrimination against the same people that stand for our rights.
Sep 6th, 2017
Someone from Toms River, NJ writes:
Just like other federal employees, dual status technicians need protection afforded under title 5. I strongly oppose any modification or amendment to the section 1053 of 2016 defense bill.
Aug 29th, 2017
Someone from Monaca, PA writes:
I'm depending on the transition to title 5 along with so many others. We want this. The amount of experience this will retain would be immeasurable. If we don't transition, I'll lose my technician job as I won't be keeping my military position. My supervisor who is right near retirement said if this goes through, he would stick around longer. As the two full timers in our career field on base and most experienced in our work, that will be a mess trying to keep the office running when nobody knows how to keep the ball rolling if we're gone.
Aug 28th, 2017
Someone from Albuquerque, NM writes:
There are enough Title 32 technicians that would gladly volunteer to convert to Title 5. These conversions should be given to those that want them and would affect them positively. All other title 32 positions should be converted to AGR status. Many of the title 32 technicians I work with don't get paid a high enough at their GS level to afford to buy a new wardrobe for the title 5 conversion. Most of the shops would benefit more by allotting more AGR slots, instead of converting to title 5.
Aug 15th, 2017
Justin S. from Klamath Falls, OR writes:
I've been in the military for more than 20 years, and a Title 32 technician for less than half of that. Please don't allow the Title 5 bill to be repealed, and don't allow it to be watered down by decreasing it from the 20% originally passed. If anything, it should be increased! When Title 32 technicians are deployed the remaining technicians have to make up the work, putting a greater burden on those remaining behind. The military requirement does not make sense, we already have plenty of positions being filled by Title 5 in the active duty Air Force, why should it be so different in the Guard? Removing the requirement for military affiliation will also make it much easier to recruit highly skilled personnel into jobs where the civilian workforce currently outpaces the military workforce - such as in Information Technology. Some of the best IT personnel may not be fit for military duty, but they can still serve their country by working as a Title 5 employee. We could gain a considerable edge by being able to open IT positions to those not suited to military service. We know our "frienemies" (China and Russia, to name two) have state sponsored hacker units and we are falling dangerously behind when it comes to cyber readiness. This transition to Title 5 won't hurt readiness, if anything it will HELP readiness!
Aug 15th, 2017
Someone from Philippi, WV writes:
I have over 20 years of service and over 15 years as a title 32 technician. I agree with so many of the comments to not stop title 5 and to NOT reduce it. It is only about control. There is no one looking out for the little guys. There are so many of us that have experience in our technician jobs and when we leave to do military duty, it hurts the guard in other readiness ways such as support. I know many persons who would choose to stay but some will eventually get out. Every guardsman is not a technician so how is that going to devastate readiness by some people getting out of the guard? When you're body or circumstances change and you can no longer meet military requirements, how is it fair that you lose your full time income as well. This is a no brainer, please keep the conversion going!
Aug 14th, 2017
Someone from Lugoff, SC writes:
If you are a politician and you also served in the armed forces, you should be fighting for us. We will remember your VOTE!