Put PRAYER Back In Schools!
Messages Sent So Far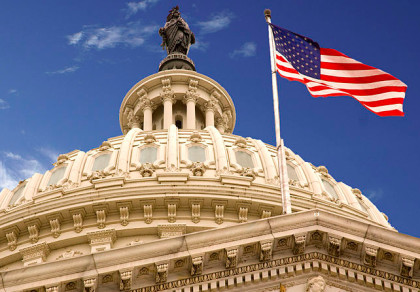 As our students start each day with the Pledge of Allegiance to the American Flag, we should also start each day with a quick word of PRAYER!

As a country, we are moving farther and farther away from the principles and values in which this great country was founded and established upon.

It is in GOD we trust! What better way to recognize that than to communicate with God and express our appreciate and petition continued Mercy, Strength and Direction.

It just makes sense to pray and intercede daily on behalf of those in authority; our President and his council/ staff, every elected official, our Armed Forces/ Military, Schools and Educators, Health and Safety Personnel (Police, Fire, EMT, etc) and our Worldwide Family.

We must remember what has made us such a strong country... it started with PRAYER!


Post Public Comments
Public Comments (4,227)
1 day ago
William S. from New Windsor, MD writes:
I believe that prayer should be put back in school. For one thing we live in a country where the majority is suppose to rule and the GALLUP poll shows that 61% of the people want this. This once great nation was formed one nation under God and now we are falling farther and farther away from God and the future of our country depends on what we teach our kids (because they are the future generation) now without God the kids are turning to drugs, alcohol and even killing . And now the way things are going the minority rules because the government dose not want to hurt their feelings but what happens to how the majority feels (the government is suppose to represent the majority) therefore we need to put pray back in our schools and turn things back around before its too late and make our country great again.
1 day ago
Cathy S. from New Windsor, MD writes:
I believe prayer should be put back in schools as children need direction and hope especially in the world we live in today. I honestly believe since prayer was removed from schools there is a huge difference in our young adults/children today in many aspects of their daily lives. The GALLUP poll shows 61% support allowing prayer in schools - so lets bring prayer back into our schools - God Bless the USA!
May 20th, 2017
Frankj M. from Pomerene, AZ writes:
I was born in 1966 and when I was in the first and second grade we used to have a moment of silent prayer and sing come by ya my Lord and my contry tis of thee sweet land of Liberty . Then on the way to the third grade a kid on the bus said did you hear they cant hit us anymore and all that stopped . I think that was the biggest mistake this country ever made to stop school prayer . I think that must have been around 1974-75.
May 20th, 2017
LaTonya E. from Natchez, MS writes:
It only took one person to influence lawmakers to take prayer out of school. You can't win an election with one vote. How can you remove prayer from school with one voice? What happen to the millions of Americans who didn't get their voice heard. Today, we are waking up to news reporting on school shootings, bullying, higher drop out rate, and etc. We instill in our children to pray as Christ has taught us. You took this privilege from those who want to implement their Christian values inside school without silence. The Bible tells us that when two or more joined together prayers will be answered. How can this happen when our presious children have been ripped of their Christian values at school? Please allow the 1st Amendment to redeem itself inside the schools across the United States. Prayer makes a difference.
May 8th, 2017
Richard S. from Colorado Springs, CO writes:
I believe that prayer should be added for those who believe in Jesus and anyone and who follows suit more power to them, but this Country was and the constitution was based on the four fathers saying that we had freedoms and one of those is Freedom of religion, it says one nation under God on the dollar bill and in the pledge of allegiance. It's not right just because some righteous atheist some fifty years ago won a case that led to prayer being banned doesn't mean it has to stick, you let one person dictate the whole country for the fifty plus years even after her death. I am sorry that she was murdered but atheists like her can be bullies to us Christians who want to read the Bible and pray in school either for food or just to pray for a good day. It's ridiculous to have prayer and bibles and the word Jesus banned from the school system and even in the workplace, how come people can mention Allah, Buddha, and many other Gods they believe in, but Jesus is banned, all the other religions get to praise whomever they want, but the word Jesus is a bad word in this Country and to some other countries who follow suit. I just want the bill changed
May 7th, 2017
Peter P. from Wharton, NJ writes:
This is A Nation Founded On Freedom To Worship God without Fear Of The Government But The Intolerant Left Has Had Too Much Say and Look How it Has Dragged us Down
May 7th, 2017
William S. from New Windsor, MD writes:
I am a christian and do believe in God , I feel that our great nation has gone backwards since they took prayer out of our schools and it need's to be put back. I look at all of the fighting and killing and raping etc. going on in our school's and in our city's , (and it is starting to happen with younger and younger kids) and it upsets me that people can't see this. I look at all of fires, hail storms, floods and natural disasters that are happening and I think God is very upset with us .So it is time to start turning things back around and the best way to start is with our kid's. So we need to put Prayer and God back in to there lives now before it is to late.
May 3rd, 2017
Paula J. from Greenwood, AR writes:
I refused to defend Communism in a Political Philosophy class at the University of Arkansas Fort Smith. I am a Christian and need people to help me get God back into the schools. Christian Teachers are not given the constitutional right to freely express their beliefs in God. Why can't the schools understand There is NO Separation of Church and State. You Prayers are welcome. I would like to get petitions to have students and professors on campus to sign.
May 1st, 2017
David W. from Sugar Grove, IL writes:
Prayer in schools will provide the foundation that Children can fall back onto as adults. We can already see the results of what was done. Even our Armed forces at one Time had prayer. Many come back from war without having the foundation and struggle daily with the pains of what war leaves. It is a foundation that must not be lost. Prayer to our lord Jesus brings out the greatness in each of us. I pray that many will receive this free gift.
Apr 28th, 2017
Someone from Katy, TX writes: