Protect the Presidency from Financial Conflict
Messages Sent So Far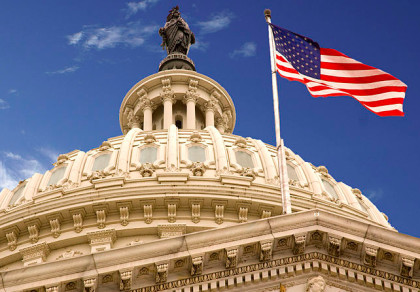 We the undersigned respectfully petition Congress to take proactive steps and protect the Office of the President from violations of the Emoluments Clause of the Constitution (Article I, Section 9, Clause 8). Congress should, by resolution, make clear to President (Elect) Donald Trump that he must divest his business assets. Further, that if he does not divest or otherwise place his assets in a true blind trust, Congress will regard ANY dealings between his financial interests at home or abroad and any entities owned or controlled by foreign governments as potential violations of the Emoluments Clause unless he can prove they were arm's-length transactions.
Post Public Comments
Public Comments (26)
Feb 15th, 2017
Someone from boca raton, FL signed.
Jan 23rd, 2017
Rosemary W. from Yelm, WA writes:
Please, let's hold trump to the same standards as our previous presidents.
Jan 22nd, 2017
Kathleen M. from Long Beach, CA writes:
Without divesting his personal business interests including foreign and domestic partnerships and properties, and without releasing his tax returns which would show income from these assets, Donald Trump is not providing Congress enough information to make an informed assessment of the President's compliance with the Emoluments Clause of the Constitution. As citizens of the United States, we hold you, our representatives in Congress, responsible for policing and enforcing the Emoluments Clause. As our minimum expectation of Congress, we expect you to demand enough information from Mr. Trump for Congress to definitively rule out covert issues of foreign influence through gifts or personal payments to our President during his term of office, and your assurance that our President complies with the Emoluments Clause.
Dec 16th, 2016
Someone from Trabuco Canyon, CA writes:
President Elect Trump is acting in a manner that is disrespectful and dangerous to the American citizens. He must divest or not assume the office of President. We need Congress to step up in a bipartisan way and enforce our Constitution.
Nov 28th, 2016
Irina Z. from Newburgh, IN writes:
Trump is a businesman, not a politician. A repitation is NOT his most important commodity. Only money is. He must not be allowed to turn our country in yet another source for his own enrichment
Nov 25th, 2016
David V. from Naperville, IL writes:
I entreat Congress to aggressively prosecute anyone who attempts to personally profit from government service.
Nov 23rd, 2016
Someone from Tunbridge, VT signed.
Nov 23rd, 2016
Karen O. from Evanston, IL signed.
Nov 23rd, 2016
Thomas S. from Mason City, IA signed.
Nov 23rd, 2016
Scott L. from Novi, MI writes:
He must be held accountable. The Constitution must be taken seriously.