Proposed 28th Amendment to the United States Constitution
Messages Sent So Far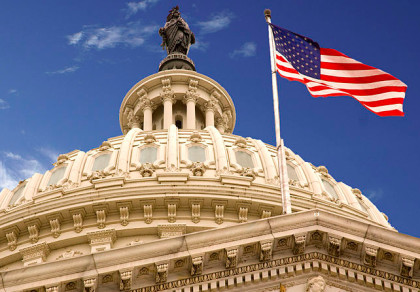 An idea whose time has come
For too long we have been too complacent about the workings of Congress. Many citizens had no idea that members of Congress could retire with the same pay after only one term, that they didn't pay into Social Security, that they specifically exempted themselves from many of the laws they have passed (such as being exempt from any fear of prosecution for sexual harassment) while ordinary citizens must live under those laws. The latest is to exempt themselves from the Healthcare Reform that is being considered...in all of its forms. Somehow, that doesn't seem logical. We do not have an elite that is above the law. I truly don't care if they are Democrat, Republican, Independent or whatever. The self-serving must stop. This is a good way to do that. It is an idea whose time has come.



Have each person contact a minimum of Twenty people on their Address list, in turn ask each of those to do likewise.


In three days, most people in The United States of America will have the message. This is one proposal that really should be passed around.


Proposed 28th Amendment to the United States Constitution


"Congress shall make no law that applies to the citizens of the United States that does not apply equally to the Senators and/or Representatives; and, Congress shall make no law that applies to the Senators and/or Representatives that does not apply equally to the citizens of the United States."

I sure wish I could take credit for this but it was sent to me in an e-mail....I support it. I hope you as the lawmakers realize how angry the American people really are. So lets see if you really have our interests at heart and see you put this into law!


Post Public Comments
Public Comments (48,056)
55 minutes ago
Someone from Palos Park, IL writes:
I DO NOT SUPPORT OPENING UP THE CONSTITUTION. YOU MAY GET A LOT MORE THAN YOU EVER EXPECTED & IT WON'T BE GOOD.
7 hours ago
Bruce W. from Sylva, NC writes:
This should of done long ago. We have a movement started as President and we need to fight every day to take our country back. The swamp has almost swallowed our country and this is a good time not to let go but put the screws back to the elites that have done it to us. I believe Mr. Trump is well aware of what needs to be done and he is learning daily of the ropes he needs to pull to get the job hile on the other hnd is is our job we the people to put the pressure on the congress to get the job down. 20 trillion in debt is not to be stood for. I would like to know what Obama done with 10 trillion dollars. I know there were 240 some million put into building a gas station in Afghanistan and how about all the money Hillary came up missing with no explanation. What was that about 6 million or so. All this has to stop as of today and make these people accountable to we the people. Another thing it is up to congress to make laws and regulations and to monitor the states on this. It is not the responsibility of the Fed government to pass laws and administer them to. Like the health care act, the government sets down the laws and regulations but not administer. That is the states job and the feds job it to monitor the laws and regulation pertaining to it. The states can add to but not take away from the feds rule. It is not right to we the people for the government to make a health care bill and administer it when a large portion of the states op out.
9 hours ago
Frank A. from Kingman, AZ writes:
If each State stepped back from Washington, and took care of their own people, we wouldn't even need to have a Congress or any type of Government over the people, as our military, along with armed citizens makes up our nations defense in more ways than the Government in place allows. Imagine this Government today being in place during the Revolutionary War, we'd just be another part of Britain. This from the Bible says it all; "Thy Kingdom come, thy will be done on earth as it is in heaven." People, there are no Governments, religions or written laws or even money in heaven. Think about it, God himself will cleanse this world and when he does, few will be left standing as he removes all who offend him, period. For he will remove all who are of this world, which was created by Satan himself, for that is why evil flourishes and history continues repeating itself. Mankind keeps following flesh and never grows one iota in truths that are not of this world, for they are of this world and follows Mammon, which is the God of getting money.
9 hours ago
Someone from Lawrenceburg, TN signed.
9 hours ago
Someone from Lawrenceburg, TN signed.
9 hours ago
Someone from Lawrenceburg, TN signed.
10 hours ago
Someone from San Diego, CA writes:
Any law that is proposed and passed in the USA must apply to EVERY CITIZEN AND IMMIGRANT in the USA. No exceptions.
11 hours ago
Jack E. from Watchung, NJ writes:
If Congress agrees to enact any legislation, we should assume it has been done with the best interests of all of us at heart. By eliminating themselves, the members of Congress are making it very clear that the legislation it not being enacted FOR us but rather TO us. Make all laws and regulations apply equally to everyone including all of the members of Congress.
12 hours ago
James C. from Louisville, OH writes:
Congress should abide by the same rules they enact as everyone else.
Jul 21st at 10:27 am
Crystal G. from Norwich, VT signed.