Proposed 28th Amendment to the United States Constitution
Messages Sent So Far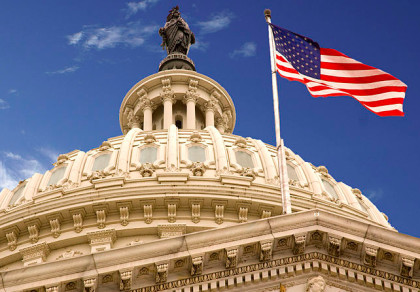 An idea whose time has come<br />
For too long we have been too complacent about the workings of Congress. Many citizens had no idea that members of Congress could retire with the same pay after only one term, that they didn't pay into Social Security, that they specifically exempted themselves from many of the laws they have passed (such as being exempt from any fear of prosecution for sexual harassment) while ordinary citizens must live under those laws. The latest is to exempt themselves from the Healthcare Reform that is being considered...in all of its forms. Somehow, that doesn't seem logical. We do not have an elite that is above the law. I truly don't care if they are Democrat, Republican, Independent or whatever. The self-serving must stop. This is a good way to do that. It is an idea whose time has come.<br />
<br />
<br />
<br />
Have each person contact a minimum of Twenty people on their Address list, in turn ask each of those to do likewise. <br />
<br />
<br />
In three days, most people in The United States of America will have the message. This is one proposal that really should be passed around.<br />
<br />
<br />
Proposed 28th Amendment to the United States Constitution<br />
<br />
<br />
"Congress shall make no law that applies to the citizens of the United States that does not apply equally to the Senators and/or Representatives; and, Congress shall make no law that applies to the Senators and/or Representatives that does not apply equally to the citizens of the United States."<br />
<br />
I sure wish I could take credit for this but it was sent to me in an e-mail....I support it. I hope you as the lawmakers realize how angry the American people really are. So lets see if you really have our interests at heart and see you put this into law!<br />
<br />

Post Public Comments
Public Comments (48,602)
60 minutes ago
Robert M. from Clio, MI writes:
When any Public Servant tries or wants to proclaim him/her self a deity we the American people desperately need to regroup & think harder about who/whom we elect! This is a scary Amendment! Since when do you/they make themselves Above all laws as those that apply for the rest of mainstream Americans?
7 hours ago
Someone from Grovetown, GA writes:
Why not? They, too, are citizens of this country. It's fair enough.
10 hours ago
Someone from Tomball, TX signed.
Aug 20th at 8:47 pm
Sally R. from Louisville, KY writes:
Congress members should be servants to We the People. Instead they live high on the hog, excuse themselves from laws and rules they dislike, use insider information to get rich, accept bribes, gifts, and deals from opposite party leaders. This was never the intent, and never used to be the case until we had spoiled greedy slick speaking liars who stay in government as a profession and moocher, not as a servant. Term limits are a must, as well as strict rules on same laws, benefits and not special treatment or exceptions to get rich on insider information or lobbyist. Its a true swamp of the worst type of people today, with few exceptions for those that manage to stay untainted during the process. I support term limits and same laws, no exceptions for those who serve the people.
Aug 20th at 6:23 pm
Someone from Spencer, TN writes:
Their position in government is to watch over the safety and security of the citizens - none of this "better" than the rest exempt attitude ...
Aug 20th at 3:53 pm
Someone from Saint Augustine, FL writes:
should go without saying. In the beginning it did, but its been long enough now for corruption to make the swamp even stinkier. Now it has to be said
1 day ago
Someone from Cortland, NY signed.
1 day ago
Donna T. from Weston, MO writes:
1 day ago
Grant F. from Rio Vista, CA writes:
For too long now, members of Congress have continually proposed Laws that, with clear intention, they have exempted themselves from. This SHOULD NOT HAPPEN. Congress MUST hold themselves equally under ANY Law they wish to impose on the Citizens of the United States. To do otherwise is Undemocratic.
1 day ago
Someone from Albany, NY writes:
They deserve the same privileges as regular state and federal employees. Nothing more. They are not above all of us.