CONGRESS AND THE SENATE SHOULD RECEIVE CUTS TO THEIR BENEFITS, NOT THE NEEDY
Messages Sent So Far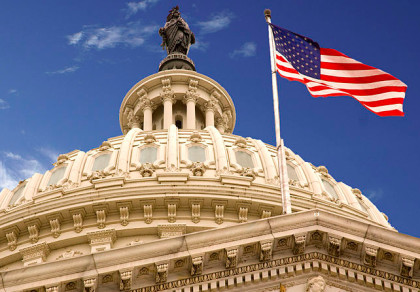 While members of Congress receive excellent pay,health care, and expensive perks and benefits, they target the needy and want to make devastating cuts to programs like SNAP (food stamps), and "Meals On Wheels", that millions of citizens depend upon to put food on the table. They also want to make cuts to Social Security and Medicare, that we have paid for out of every paycheck.<br />
<br />
They want to make budget cuts that will hurt the most needy individuals, yet they do not go without. Most Americans have experienced pay cuts. Members of Congress and the Senate should also give themselves a paycut, be forced to change health care benefits, and receive the same benefits under the Affordable Health Care Act as everyone else. They should be forced to forfeit pensions, and eliminate, or make cuts to perks and other benefits they reap, if they are truly concerned with saving the government money, and decreasing the deficit.<br />
<br />
Here is a list of the perks and benefits they receive:<br />
<br />
1. Free parking spaces at the airport in Washington, D.C.<br />
<br />
2. A generous pension, which is guaranteed to all members of Congress and the Senate if they have held office for 5 years or more. They also are entitled to Social Security benefits. They should be forced to forfeit this pension, and receive only Social Security benefits like everyone else! <br />
<br />
In addition to this pension, Speaker of the House John Boehner will receive an additional $1 million per year, for up to 5 years, after he leaves office, "to facilitate the administration, settlement and conclusion of matters, pertaining to, or arising out of" his tenure as Speaker of the House. This provision will also allow him to rack up huge bills, to "archive" and document materials related to his time in office. <br />
<br />
3. Senators get to shop at the equivalent of Congress' IKEA, furniture supplied through the Architect of the Capitol. Every senator gets $40,000, and potentially more, for furniture in their home-state offices. <br />
<br />
4. Members of Congress can deduct up to $3,000 for expenses while outside their home districts or states.<br />
<br />
Taxpayers are paying for all of this! Time for Congress and the Senate to make cuts to their own salaries and benefits, to decrease government spending and the deficit! <br />
<br />
I demand that my elected officials in the Senate and Congress look elsewhere to make budget cuts, starting with their own paycheck, health insurance and other perks and benefits they receive, instead of targeting the poor, elderly and disabled. If they expect others to go without, it's time they did also!
Post Public Comments
Public Comments (9,711)
Oct 12th, 2017
India M. from Fort Lauderdale, FL writes:
You are considering cuts to Federal employees benefits, have you included yourselves as you are paid from the same source and perform the same duties as other Federal employees. Federal employee benefits include Congress and their staff, so do not exclude Congress benefits from reductions considered and/or approved.
Sep 13th, 2017
Someone from New York, NY signed.
Sep 13th, 2017
Nelson C. from Bemidji, MN signed.
Aug 12th, 2017
william e. from Worcester, MA signed.
Jul 31st, 2017
Someone from Huachuca City, AZ writes:
As was said earlier they (Congress and Senate) should not have all the benefits that the taxpayers provide and then pass bills to try to take things away from taxpayers. The retired people on a fixed budget watch the cost of everything from Insurance to groceries just go up and up and Congress is looking to "FIX" Social Security and Medicare to try and cut cost. Enact a 25% income tax across the board cut the benefits and retirements for Congress and Senate let them live on social security and the same health plan we do.
Jul 26th, 2017
Someone from Avilla, IN writes:
Senators and Representatives or any elected official should not have healthcare paid for by taxpayers. We can not allow them to have insurance we can not have ourselves. They vote to take ours away while we pay for theirs. I Enough. If they have healthcare, we should have healthcare. I was really upset that Senator McCain voted yes after receiving life saving surgery we paid for. Do not misunderstand, I want him to have whatever he needs as long as we have the same. Why should I pay for ins I can't have. I believe PES should all be covered with no increase in premiums.I believe there should be a standard fair price acrossed the board for medications, hospital stays, surgeries, office visits, DME, and all procedures. I don't think hospitals should be allowed to charge 10.00 for an asprin. I think ER visits should cost the same as regular dr. visits. Anything the insurance charges over the contracted amount should be paid by the government or wrote off. Maybe then some overcharging will stop. I don't think we should pay for elected officials insurance anymore. They are trying to take our away
Jul 25th, 2017
Jill M. from Raleigh, NC writes:
You need to be in the same healthcare boat as the rest of the country in order to see how to stop it from sinking- and be motivated to fix it quickly!
Jul 18th, 2017
Someone from La Plata, MD writes:
Term limits please!!!!! They should get the same health care everyone else does...watch how fast they fix the system!!!
Jul 18th, 2017
Lori B. from Dickinson, TX signed.
Jul 18th, 2017
Tina G. from Davenport, IA writes:
Stop making congress rich - they don't represent most people who struggle.