Abolish H1B Visa program
Messages Sent So Far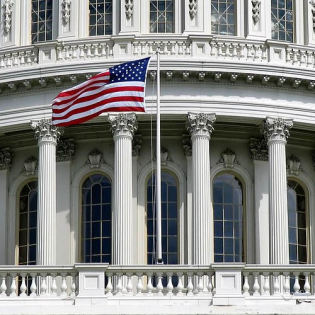 H-1B program is flawed beyond repair. It should be abolished in favor of something smarter. Corporations have no place being immigration middle men. Immigration is about something much more pure and sacrosanct than corporate profits. It needs to be abolished in favor of permanent immigration as opposed to corporate sponsorship. Immigration should be limited to 5% of net job gains each year. In years when we have job loss, It should be restricted. Off course there will be more people would applying than we have openings for. Then acceptance should be based on first come first serve basis. The case is about economics and national interest, and has nothing to do with race. The reason H1B visa holders are so easily exploited is because of corporate sponsorship. Green cards in sustainable numbers would make them equal players in the labor market. An H-1B visa amounts to second class labor and corporate sponsorship gives companies leverage against American workers wages and salary. This hurts American workers directly and it hurts us as a nation indirectly.
Post Public Comments
Public Comments (5,978)
55 minutes ago
Someone from Calabasas, CA writes:
Americans created Microsoft without India. Google was created without India. IBM was created without India. India didn't contribute a drop of innovation during the birth of the digital age. India had nothing to do with the creation of Pepsi, coke, or any other major corporation that has grown worldwide. India is nation of parasites, thieves and scammers. All Indians know how to do is steal intellectual properties from Americans and imitate FBI and IRS agents while using American names to defraud senior citizens in the United States. The other thing Indians know how to do is squat in public while smearing their waste on sidewalks. That's all Indians are good for. Polluting the environment and parading their chutia offspring around in US taxpayer funded strollers. Indians are thieves. I hope the global hatred towards all invading Indians grows to feverish levels and that violence engulfs all hordes of Indian invaders in all countries that they've migrated to. I will proudly discriminate against all Telugu, Hindi, and Sikh parasitic slum dogs who cross my path. I will assist and support any vigilante efforts to rid my country of these scamming criminal beasts. Curse India and every filthy parasite that slithers in from that diseased cesspool. I pray for continuous and endless violence against all Indian invaders in our country. Indians will never be welcome in my community. It is time for Americans to teach Indians a few lessons that they haven't learned at Tata or infosys. Let us teach them what we Americans do to thieving parasite scumbags from India and their criminal families. Let the lessons begin.
1 hour ago
Thom S. from New York, NY writes:
Indians are not helpful to non-Indians, Westerners who are stupid enough to visit the shithole Goa wind up murdered by the Indians there. Indian people are very clanish, staying in private groups to scheme against non-Indians, Indian women in IT are always eavesdropping on non-Indian conversations and then go report to the rest of their work clan group, I have only worked with 2 H1Bs who actually worked hard, the rest walk around all day, running their mouths on the cell phone, or talking with their fellows on 3 hour coffee break, and when it is time for a project to be deployed, that is when they go on vacation to India for 1 -2 months, leaving corporation employees stuck to do their work, then they come back to office after the project is deployed to still get paid by the company. The truth is that India is a skinny raving starving beggar who sees America as a 500 pound goose with no legs and no wings to be eaten and shitted out
1 hour ago
Rajshree G. from Denver, CO writes:
Opps , by mistake I sent. Here is the completion .. Question is why Americans can not help each other because Americans knows that they are not capable and flexible enough to do the job . We Indian knows that we are hard working , flexible and will make it successfully. That's true that we have fake resumes, fake linkedin , fake exp but when it comes to job we work hard and make it.
1 hour ago
Someone from Round Rock, TX writes:
Working with IT resources such as analysts, developers, testers etc sourced from India, and by that I mean including ones sourced from an Indian owned mom & pop IT Staffing shops can be so destructive an experience that it forced me to rethink my Indian culture that I grew up in. Back home Indians are, majority of them and I would put the figure at 95% of Indians, are so congenial and helpful that it is impossible to imagine that the same people can be so mean and nasty when transplanted in a US IT setting. Or could be that the hiring process of major Indian IT outsourcing and Indian mom & pop IT Staffing shops is such that the outcome is people that are hired are mean and downright nasty. Or could be that Indian IT outsourcing & staffing is so focused on money making at any cost that it has lost it's moral compass to a point that it is sensitized to pain and suffering of people it affects by its outsourcing processes. This could be a great topic for a thesis at management schools after Trump is done with them.
1 hour ago
Rajshree G. from Denver, CO writes:
I do agree with lot of people here. H1B is highly skilled program and it used to be beneficial for America but now a days I doubt it. I saw companies like TCS, Infosys, HCL etc.. they hire people below average , train and put them into project. Problem is now a days these days 60-70 % of jobs are with these companies. If u r looking for job, these companies are only hiring, rest american companies are not because they gave contract to these companies. Just FYI.. JP Morgan Chase have 30 contractors from TCS. Indian Companies changed working style in USA. I used to go office at 7 :00 AM but now I go ar 9:30-10:00 AM because none of Indian workers come to work till 10:00-10:30 AM. Managers are Indians , Directors are Indians what you can do , nothing I guess. I know so many Indian people who have fake resume and fake linkedin profile , They request their friends to recommend them on linkedin . so it is very hard now a days to deal. Well.. I guess now now then never. I know one Indian guy who used to waiter staff at restaurant , after training he got a job. He put that he worked 8 years in Accenture and he have 15-16 recommendation that he worked with them and he is very good. Funny thing is he was waiter I know . Now he linkedin profile and recommendations ..wow .. Indians help each other so much .Question is why Americans can not help each other
2 hours ago
Thom S. from New York, NY writes:
New York, NY draws a true, but very much horror picture of working in the Indian farms, Americans must understand that if IT and other jobs are completely overrun with Indians, they will change the work culture here to exactly the work cultures over in India! What New York, NY says will happen, and plus worse things from those people. Even the recruiters and other employers who whine "no Americans to fill these jobs" should ask themselves, Do we really want to live in a country that is exactly like India, do we want to live in a filthy, backwards, overpopulated, caste ridden society, where everything with value is funneled to the top brahmin caste? Think! America must fight against India INC before it is too late and the cancer kills us all
3 hours ago
Someone from New York, NY writes:
Physically living in America and working in India. ………………………………...……………………………………………………………………………………………………. To all my fellow Americans, recruiters and senators. ………………………………...……………………………………………………………………………………………………. I am expressing my experience for most of the people talking about "Training American, American's lacking the skills, recruiters complaining "American's don't apply for job." You need to work in these offices, to feel what Americans are going through. ………………………………...……………………………………………………………………………………………………. What an American expect. "American in America" ………………………………...……………………………………………………………………………………………………. Interview process: ………………………………...……………………………………………………………………………………………………. You know who you will interview with? You reach there, warm welcome, hello, how was your commute. Walk you to the cafeteria, will ask you to grab a water bottle or coffee.. here is the restroom, please feel free. You settle down in 5-10 min. Interviewers come with a copy of your resume and ask you to tell about your experience. Listen to you patiently, explain what they do and what they are expecting. ………………………………...……………………………………………………………………………………………………. Considering interviewing an experienced person, will ask in detail, about the design and processes and your business knowledge. Judge your technical skills by cross-questioning your experiences, or asking, how will you address particular problem. ………………………………...……………………………………………………………………………………………………. Will be eager to know if you have any questions, will try to give genuine answers and inform you about their recruiting process. Will let you know by when they will have final say about the position. ………………………………...……………………………………………………………………………………………………. You are lucky. You got the job. ………………………………...……………………………………………………………………………………………………. ………………………………...……………………………………………………………………………………………………. You work 8 hours a day, 8:30-5:00 or 9:00-5:30. People will genuinely work for 8 hours, no issues. People with kids and families, we respect family values, and genuinely believe people have weekend plans with their families, so don't expect them over the weekend, rare exceptions. ………………………………...……………………………………………………………………………………………………. We have processes in place, we will groom our junior resources, no fire-fighting no production issues (very rare). We all are well aware, what we are doing and why we are doing, what are our future plans and goals. People in management positions are there as they love management. Will spend their day in project planning or setting up processes to make everyone's life easy. Peaceful work life, we all made our career choices. "Live to work and enjoy our life". ………………………………...……………………………………………………………………………………………………. ………………………………...……………………………………………………………………………………………………. Offices run by non-Americans : ………………………………...……………………………………………………………………………………………………. Physically living in America and working in India. ………………………………...……………………………………………………………………………………………………. Interview process. ………………………………...……………………………………………………………………………………………………. You reach there on time. No one to receive you. Once I was standing in the lobby for literally an hour, there was not even a place to sit. Even the receptionist got so mad to make so many phone calls to this interviewer. She started telling me how bad these people are. Finally an Indian manager came to receive me, "sorry, there was production issue". Seriously... "there is something called planning and backup" they simply lack professionalism. Anyways in IT this is the choice you are left with. ………………………………...……………………………………………………………………………………………………. You walk with them for the interview. Very rare they will ask you for water or where you are coming from, no time to settle down. First question: Do you have a copy of your resume? "Oh my God" you mumble, how much they care about you. Anyways.. you reply "yes"...you hand over your resume. ………………………………...……………………………………………………………………………………………………. Second question : Can you explain where you have been working and what were you doing. You start explaining, and the guy is reading your resume, you feel like talking to the walls. After certain time he will interrupt you and ask third question. Do you know what is ..,? You answer. How many types of ... are there? You answer. He will pick up one type and ask for definition. ... What is this...? Another question what is this? Non-ending definitions or sometimes syntax questions. How they differentiate between fresh college graduate and person with 10-15 years of experience? I have no clue. ………………………………...……………………………………………………………………………………………………. You are lucky if you have practiced interview questions. ………………………………...……………………………………………………………………………………………………. If they don't have reference for any Indian, you might get the job. Whether you are lucky or unlucky you don't know, but you have to pay the bills so you accept the offer. ………………………………...……………………………………………………………………………………………………. You ask them? What are your working hours? Generally 9:00-5:30. But here we work 24/7 and ideally no work from home. You will think they are kidding. ………………………………...……………………………………………………………………………………………………. Day one you reach office around 8:00-8:30. Couple of American faces, and most of the people have not arrived yet. Around 9:45-10:00 most of the people will start coming, all Indians. You will be surprised some people will come around 10:30/11:00. No preparation done for you, no plans. Couple of days, and sometimes weeks before your system is up and running. You will try to adjust but they will make you feel so out of the place. ………………………………...……………………………………………………………………………………………………. No respect for anyone, will talk in their language. They are uncultured, and you will be surprised they are not aware of it, as this is how they are raised. ………………………………...……………………………………………………………………………………………………. Management style is .. no knowledge, no communication, no plans, no strategy... you can count days/weeks/months when you have no work and then there are days when you have to work 24 hours. Simple strategy work like asses. No questions to be asked. ………………………………...……………………………………………………………………………………………………. No one will follow rules, password sharing, logging into each other's machines... very common. Don't follow any work hours. I even had one colleague coming at 10:30, taking one hour lunch break and leaving at dot 5:00. You will think he/she is working in the night or logging from home. That was not the case. 40 hrs week employee. Simply corrupt people. ………………………………...……………………………………………………………………………………………………. Nepotism, favoritism everywhere. You get late, you will be questioned. Higher management will send email. Everyone have to be in by 9:00. You will reach in time and will be surprised that still all these people are coming late, even your Indian manager will come around 10:00. You will be confused, what is going on, where you landed. You try to complain. You will get fired, or more simple don't hire Americans so they can run these corrupt shops. They work to live and survive and will break rules and do anything for it. Americans are struck with how we are raised. ………………………………...……………………………………………………………………………………………………. We all heard the word "Corruption". Read about it in newspapers and articles, never experienced it in day-to-day life. We all in IT are confused as we don't know what we are going through. This is nothing but CORRUPTION. ………………………………...……………………………………………………………………………………………………. These H1bs are bringing corruption, nepotism to US society. They don't integrate. Question is not lack of skills or STEM workers, it is assimilation and integration issue in the society. ………………………………...……………………………………………………………………………………………………. ………………………………...……………………………………………………………………………………………………. ………………………………...……………………………………………………………………………………………………. We all are searching for American workplace which is now a lost dream.
4 hours ago
Someone from Plano, TX writes:
In March 2016, well before Trump, India dragged the US to WTO's dispute settlement body against the latter's measures imposing increased visa fees on certain applicants for L-1 and H-1B visa categories. India has stated that the move would impact Indian IT professionals ................... India has alleged that the US is violating its obligations under General Agreement on Trade in Services (GATS), a binding agreement for all WTO member countries, as well as the GATS Annex on Movement of Natural Persons Supplying Services, to not discriminate against or between non-US service providers................... This appears to be the first time a WTO member has formally filed a dispute challenging the immigration laws of another member as a violation of the GATS >>>>>>> Indian IT Outsourcing Corporate World CEOs, the respected Natarajan Chandrasekaran, N. R. Narayana Murthy, Shiv Nadar, Abidali Neemuchwala, Francisco D'Souza, C. P. Gurnani, and others have been kicking Americans out of their jobs in America and find it unnecessary to explain their treacherous acts >>>>>>> All these Indian CEO fat cats are committing crimes regularly. US must appoint a special prosecutor to investigate their criminal actions, file criminal lawsuits, have them extradited to US and put in jail cells >>>>> The f**king gall these CEOs have to challenge US sovereignty in WTO >>>>>> Spread the word guys. >>>>>> Track these basstard Indian CEOs when these scumbags are in US and show them the door out of US >>>>>>> God speed
4 hours ago
Someone from Plano, TX writes:
White House Briefing Singles Out IT Firms for H1B Abuse>>>>>> Following on the heels of President Trump's executive order on H1B visa reform, a White House briefing on the program gave a scathing review of Indian IT outsourcing firms. While the proposed measures to change the H1B visa program may impact these companies, this is the first time that the administration has openly accused them of taking advantage of the annual lottery....................... "You may know their names well, but like the top recipients of the H-1B visa are companies like Tata, Infosys, Cognizant, HCL, WIpro, Mahendra Tech, Accenture, Capgemini, CSC — they will apply for a very large number of visas, more than they get, by putting extra tickets in the lottery raffle, if you will, and then they'll get the lion's share of visas." The senior official giving the briefing went on to say that those three companies were being mentioned by name because they are the top three recipients of H1B visas each year. Adding to that distinction is the fact that they pay an average wage of $65,000 per year compared to software engineers employed directly in Silicon Valley, that make twice as much.>>>>>>>>>>>>>>> No More Lottery System?....................... These comments seem to be laying the groundwork for scrapping the annual lottery, and shifting the award of H1B visas to a merit based system. That would dovetail with the USCIS recent announcement that entry level computer programmers would no longer be eligible for the H1B visa, which is part of the outsourcing companies' pool of contractors........................ This series of announcements, executive orders and now direct accusations of program abuse may signal the end of the widespread dominance of the program by IT outsourcing companies. The H1B visa is supposed to be for specialty occupation that cannot be filled by a qualified American worker......................... "Instead you're bringing in a lot of times workers who are actually less skilled and lower paid than the workers that they're replacing. So, if the current system that awards visas randomly without regard for skill or wage is changed to a skills-based awarding, it would make it extremely difficult to use the visa to replace or undercut American workers.">>>>>>>>>> The Indian Government Continues to Lobby for IT Workers.................... Notwithstanding all of this, the Indian government continues to lobby to maintain the current H1B visa system, which obviously employs thousands of Indian IT workers. Strangely, India characterizes the H1B visa as a trade issue, rather than an immigration issue, and thinks that changing the program is an unfair restraint of trade and violates international treaties. They have even made veiled threats to retaliate if the program is changed to impact Indian workers........................ This is a strong sign of how reliant India has become on the ability to export entry level IT workers to other countries, and Australian and Singapore are also following the US policy of tightening work visa requirements. Unfortunately, India has little hope of swaying the Trump administration to its point of view, as protecting jobs for US citizens is a top priority........................ For some reason, India seems to feel that countries with a strong tech industry like the US, have a duty to hire inexperienced IT workers so that they can gain on the job training to then bring back to India. The outsourcing companies have been the main funnel for this practice, so it is no wonder there are complaints. If the White House comments are any indication, these companies will no longer be the main players in the US H1B visa scheme, and will have to find another way to employ Indian workers at home..........................Guys keep in touch with your City Council/Congressmen/Senators........ Call/Write to them every day and keep this issue alive till just and fair outcome for all concerned is achieved
4 hours ago
Someone from Plano, TX writes:
Shelly T. from Herndon, VA writes: --------- In Kenosha, Trump drew a bright line on the H-1B visa: It "should include only the most skilled and highest-paid applicants and should never, ever be used to replace American workers." >>>>>>>>>> The administration has already hinted at some of the changes it would like to see: It might try to change the existing way the government defines the "prevailing wage" in an industry (the de facto minimum wage for an H-1B visa holder in that industry) and might start handing out H-1B visas for the highest-paid jobs and best-educated employees rather than giving any applicant who meets the basic requirements for the visa a chance. >>>>>>>>>>>>>>> Bottom Line: Pres. Trump has set the tone for Merit based H-1B and I watched Congressman Issa say something similar along these lines in his address to Indian Community in Atlanta (https://www.youtube.com/watch?v=2Tgc9m1IwNc ___ copied from post below) >>>>>>>>> Indian IT and political leadership cannot complain because they will still have access to H-1B on Merit basis >>>>>>> God bless Pres. Trump and Congressmen like Derrel Issa!