Put PRAYER Back In Schools!
Messages Sent So Far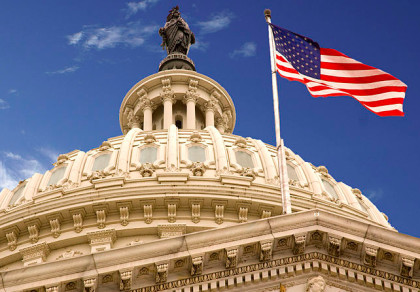 As our students start each day with the Pledge of Allegiance to the American Flag, we should also start each day with a quick word of PRAYER! <br />
<br />
As a country, we are moving farther and farther away from the principles and values in which this great country was founded and established upon. <br />
<br />
It is in GOD we trust! What better way to recognize that than to communicate with God and express our appreciate and petition continued Mercy, Strength and Direction. <br />
<br />
It just makes sense to pray and intercede daily on behalf of those in authority; our President and his council/ staff, every elected official, our Armed Forces/ Military, Schools and Educators, Health and Safety Personnel (Police, Fire, EMT, etc) and our Worldwide Family.<br />
<br />
We must remember what has made us such a strong country... it started with PRAYER!<br />
<br />

Post Public Comments
Public Comments (4,248)
Sep 17th, 2017
Leo R. P. from Larose, LA writes:
Let the people of the United States VOTE to override the law from the Supreme Court. Put on a ballot so we the people can have a voice again.
Sep 6th, 2017
Richard D. from Ilion, NY writes:
If we don't have God with us the earth and the people on it is going to hell but with God all thing are great, we need God love and faith in him to make this world a better place. Read Psalm 119 and you will know how much he loves us all Amen. God is good. So lets put PRAYER back in our school.
Sep 3rd, 2017
Gary E. from Rutherfordton, NC writes:
I believe you can track America's decline in its moral values since prayer was removed from school in 1963. We have become a Godless nation where Government is now above the law, and when states do set a moral law , i.e. Marriage is between a man and a woman big brother steps in and over turns God's law and the will of the people. Unless America repents and turns away from its sins then we will never have God's grace on it. We are the new Sodom and Gomorrah
Sep 3rd, 2017
Brooke W. from Columbus, OH writes:
Taking prayer out of schools has been part of the downfall in our society's standards, morals, and values. Think back to when you were in school. When you were 8yrs old, 12yrs, 16yrs... We're you concerned with your looks, what you had, who you were dating? Possibly, you were. But these days since God's been removed, kids, KIDS! , are concerned with who they are sleeping with, who they are showing themselves off for, how many people they've slept with, having $600 pairs of tennis shoes, how many are having children while they're still in school.. And THEIR PARENTS are finding this acceptable!... How many do you hear about anymore doing anything good for their community, what's the number of kids on the honor roll anymore.. How many are actually graduating compared to when God was allowed in schools... When God was allowed in the home even... It starts with us. It starts with the parents. It starts with our neighbors. It starts with GOD! Bring God back not only in schools but our lives too!
Sep 2nd, 2017
Edwin G. from Keithville, LA writes:
Now is the time to restore prayer in Jesus name!!!
Sep 1st, 2017
Jackson C. from Bramwell, WV writes:
We must keep prayer and Bible in schools. Very important.
Aug 25th, 2017
Richard B. from Hot Springs, VA writes:
I want prayer back in schools and leave freedom of religion alone.
Aug 25th, 2017
Patricia B. from Hot Springs, VA writes:
PLEASE let us have prayers back in schools and anywhere else we want to pray.
Aug 24th, 2017
Marcia P. from Pilot Point, TX writes:
Our country was very blessed because it was founded on belief in God and he allowed us our Freedom and Flag which is a "BALANCE"! Humans are normally born with Two legs; if one leg is lost or even just have a half one, it knocks off the balance of the human! This is what Satan has caused to happen to our country! He keeps on lieing to the ones who do not know the real TRUTH and they rationalize we don't need God! The real real Truth is that without God there would have never been an America and won't be in the future as if our country does not come back to the agreement that God is the reason Christopher Columbus searched out a new land for THIS particular FReedom.....GODs FREEDOM! A large and highly effective important ant pactice is to put a part of America's leg back where it originated.....(PRAYER BACK IN OUR SCHOOLS!)!!!!! MDWPels
Aug 9th, 2017
Kristen H. from Las Vegas, NV writes:
The Five Pillars of Islam are being taught in many United States public schools. It is time to fight to have prayer and the Bible in our public schools. Islam's pattern is to saturate a country, play victim and protest for their rights and they are doing a fantastic job. Where are the Christians? If we don't stand up for Jesus- we have no right to complain about the growing indoctrinations of other faiths. It is time. We must have the right to pray and open a Bible freely in any and all classrooms. Evolution is being the doctrine of the majority of schools. Because we have KEPT SILENT we have become the minority. We have acquiesced to politically correctness and look where it has gotten our country! We cannot afford to be persecuted for an inalienable right we have. Others are fighting much harder for their beliefs and the Church, as a whole, as become numb & lazy. This is not for any particular denomination but for the right to study, pray and have Bibles in our classrooms. The hatred for Jews and Christians has increased, as the Bible said it was but it also says we must share and stand up for our faith. Pass this petition on and get busy with Lord's work instead of the world's work.