Stop the Title 5 Repeal!
Messages Sent So Far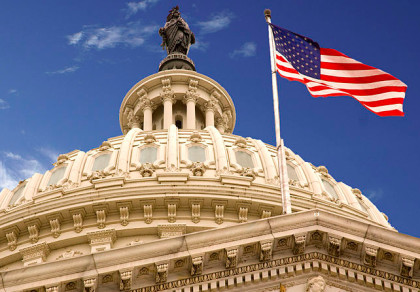 The FY16 NDAA contained Section 1053, a bi-partisan provision that ordered the conversion of no less than 20% of all National Guard (NG) Dual Status technicians (DSTs) from Title 32 to Title 5 employment to begin on January 1, 2017. The National Guard Bureau (NGB), the Adjutant Generals Association (AGAUS), the National Guard Association (NGAUS), and the Council of Governors (CoG) strongly opposed the law and called for its outright repeal citing unsupported claims of increased cost and reduced readiness. Senator John McCain, SASC Chairman, and Senator Jack Reed, SASC Ranking Member, strongly rejected the calls for repeal, and Section 1053 was ultimately included in the 2016 defense bill.

After repeal efforts failed, opponents of Section 1053 asked that language be included in the FY17 NDAA to delay conversion until at least October 1, 2017, under the guise that: 1. It would align the conversion with the beginning of FY18; and, 2. It would allow leaders some time to ensure a smooth transition for affected employees. The House and Senate Armed Services Committees (HASC/SASC) agreed to the proposal as presented, and included draft language in the FY17 NDAA to delay the conversion.

Supporters of Section 1053 warned HASC/SASC, and other members of Congress that calls to delay were merely a veiled attempt to give NGB, AGAUS, NGAUS, and CoG one more crack at repealing Section 1053 in the FY18 NDAA. It appears the warnings were justified as Section 1053 opponents are renewing their push for a full repeal of Section 1053 now, rather than later, during the election season, through the lame duck session, and before the FY17 NDAA is even signed. For the reasons stated below, I strongly urge you to oppose any effort calling for the repeal of Section 1053.

The NG DST program is over 100 years old. I believe the program is outdated, and the changes mandated in Section 1053 are a great start towards modernizing this force. The new law streamlines administration, cuts overall operating costs to the US Government, and allows technicians access to due process.

Concerning due process, technicians do not enjoy the full due process protections guaranteed to other federal employees because current law limits appeals of adverse employment actions to their respective State Adjutants General. As such, these employees cannot appeal to an arbitrator, the Merit Systems Protection Board, the Office of Special Counsel, or even Federal Court, which means they are also not protected as under Federal Whistleblower laws. The result is a program that is often susceptible to fraud, waste, and abuse, and is the only program in the federal government where the person who fires you also hears and decides your appeal.

The changes required by Section 1053 are the start of much-needed reform. The law is based on the independent report prepared by the Center for Naval Analysis at the direction of Congress in section 519 of the 2012 defense bill. It takes a conservative approach and gives National Guard and State authorities the ability to provide input on how the transition should occur, including how best to maintain these employees under the control of State AGs, all while affording them the rights enjoyed by every other federal civilian employee. Section 1053 will allow these employees an opportunity to reach full civilian retirement age, provide access to federal appeal rights, and simultaneously correct other inconsistencies that only affect this small but much-needed workforce.

Thank you for your attention to this very important matter.
Public Comments
Nov 10th, 2016
Someone from J B P H H, HI writes:
Don't allow repeal of law, system is outdated, and should have been improved years ago from a train, and maintain force, to a full blown operational force (Total Force Integration wth Active Duty). Personally I prefer they move technicians into the law enforcement/fireman retirement system (25 yr retirement) it would definitely fit in todays environment, but hey Title 5 is fine...and its about time.
Nov 8th, 2016
Someone from Bolingbrook, IL signed.
Nov 7th, 2016
David W. from Long Prairie, MN signed.
Nov 6th, 2016
Someone from Austin, TX signed.
Nov 2nd, 2016
Reinaldo C. from Barranquitas, PR signed.
Nov 1st, 2016
John B. from Las Vegas, NV signed.
Oct 31st, 2016
Someone from Albuquerque, NM writes:
I became a technician later in my military life. I will reach my 20 way before even touching the retirement age or being close to it on the technician side. We get paid far less then ADOS and AGR for doing the same job. The program is outdated and it is due for a change to be able modernize.
Oct 30th, 2016
Someone from Dauphin, PA writes:
It is time for the technician force to be title 5 where applicable. It has been far too long that we are treated as AGR Soldiers and not afforded the benefits of or being one. We deserve the proper respect and representation that our union cannot offer right now because of the hierarchy we fall under. As an expecting mother being allowed to take 12 weeks off WITHOUT PAY is unconscionable while expecting mothers that are AGR are afforded the same twelve weeks off WITH PAY and benefits and accruing time off is unbelievable. It is impossible for me (or anyone for that matter) to take the time off from work as needed to stay home with my new child or if there is a family emergency and not be covered. I, like many families, am the only income in my household and this is just not feasible. We need to be converted to title 5 in order to better perform our duties and be able to communicate equally with those entities we deal with in order to make the mission happen and take care of Soldiers and also be able to take care of our families.
Oct 30th, 2016
Someone from Reading, PA signed.
Oct 27th, 2016
Someone from Elgin, SC signed.
Oct 27th, 2016
Someone from Salem, OR writes:
Don't allow them to delay a well thought out program and much needed change. It all about power and nothing about readiness or the health of the guard employee systems.
Oct 26th, 2016
Someone from West Jordan, UT signed.
Oct 25th, 2016
Someone from Carolina, PR writes:
I've been a full time technician for more than 10 years, still have many years to reach my minimum retirement age. I have some medical conditions that prevent me from being in the military, but I can do my civilian job perfectly. If I loose my military status I will loose my civilian job and I won't be able to provide for my family until I find a different job. I totally support the Title 5 status.
Oct 25th, 2016
Someone from Juncos, PR signed.
Oct 21st, 2016
Someone from Florence, SC signed.
Oct 20th, 2016
Luis V. from Ceiba, PR signed.
Oct 20th, 2016
Someone from Rio Grande, PR signed.
Oct 20th, 2016
Someone from San Juan, PR writes:
I want to retire as a military and I can't because my technician position is at risk. I'm in favor of the conversion of Title 32 to Title 5 dual status technicians.
Oct 20th, 2016
Someone from Spring City, UT signed.
Oct 19th, 2016
Someone from Coral Springs, FL signed.
Oct 18th, 2016
Patrick R. from Aiken, SC signed.
Oct 18th, 2016
Jessica S. from Asheville, NC signed.
Oct 17th, 2016
Someone from Paris, IL signed.
Oct 17th, 2016
Someone from Paris, IL signed.
Oct 16th, 2016
Richard M. from Nineveh, IN signed.
Oct 16th, 2016
Someone from Morrilton, AR signed.
Oct 16th, 2016
Kenneth L. from Bon Aqua, TN signed.
Oct 15th, 2016
Someone from Dryden, MI signed.
Oct 14th, 2016
Jacqueline S. from Grosse Pointe, MI signed.
Oct 14th, 2016
Someone from Lehi, UT writes:
Dual Status Technicians don't belong in certain guard positions such as accounting technician or financial management. These areas should be people who are stable provide continuity to the guard and are subject matter experts with degrees that are relevant to the position. They are managing and accounting for tax payer dollars. Readiness requires proper resourcing and support which is best done by a stable workforce rather than a workforce that may be pulled from Title 32 dual- status and activated for federal Title 10 mission completely un-related to their financial position. The guard should propose a change to convert Title 32 dual status technicians to Title 32 non- dual status technicians especially for the Financial Management and accounting areas if they don't agree with Title 5 conversion. I'm confident the guard is more efficient and has a better well rounded understanding of the end to end processes of funding and the ways the funds are excuted. Please support a conversion to Title 32 Non dual status or Title 5.
Oct 14th, 2016
justin m. from Keller, TX signed.
Oct 14th, 2016
Someone from Lake Charles, LA signed.
Oct 14th, 2016
Randall S. from Madisonville, KY signed.
Oct 14th, 2016
from Belle Chasse, LA signed.
Oct 13th, 2016
Nathaniel M. from Vancouver, WA signed.
Oct 13th, 2016
Tim W. from Sullivan, IN signed.
Oct 13th, 2016
Someone from Bel Air, MD signed.
Oct 13th, 2016
Mike S. from Modesto, CA signed.
Oct 13th, 2016
Someone from Bandon, OR signed.
Oct 13th, 2016
FRANK W. from Saint Robert, MO writes: