Stop the Title 5 Repeal!
Messages Sent So Far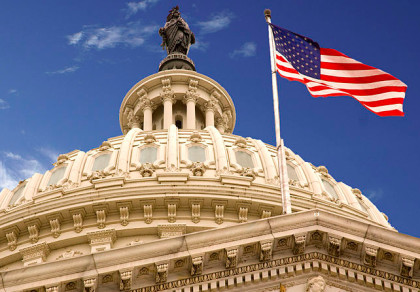 The FY16 NDAA contained Section 1053, a bi-partisan provision that ordered the conversion of no less than 20% of all National Guard (NG) Dual Status technicians (DSTs) from Title 32 to Title 5 employment to begin on January 1, 2017. The National Guard Bureau (NGB), the Adjutant Generals Association (AGAUS), the National Guard Association (NGAUS), and the Council of Governors (CoG) strongly opposed the law and called for its outright repeal citing unsupported claims of increased cost and reduced readiness. Senator John McCain, SASC Chairman, and Senator Jack Reed, SASC Ranking Member, strongly rejected the calls for repeal, and Section 1053 was ultimately included in the 2016 defense bill.

After repeal efforts failed, opponents of Section 1053 asked that language be included in the FY17 NDAA to delay conversion until at least October 1, 2017, under the guise that: 1. It would align the conversion with the beginning of FY18; and, 2. It would allow leaders some time to ensure a smooth transition for affected employees. The House and Senate Armed Services Committees (HASC/SASC) agreed to the proposal as presented, and included draft language in the FY17 NDAA to delay the conversion.

Supporters of Section 1053 warned HASC/SASC, and other members of Congress that calls to delay were merely a veiled attempt to give NGB, AGAUS, NGAUS, and CoG one more crack at repealing Section 1053 in the FY18 NDAA. It appears the warnings were justified as Section 1053 opponents are renewing their push for a full repeal of Section 1053 now, rather than later, during the election season, through the lame duck session, and before the FY17 NDAA is even signed. For the reasons stated below, I strongly urge you to oppose any effort calling for the repeal of Section 1053.

The NG DST program is over 100 years old. I believe the program is outdated, and the changes mandated in Section 1053 are a great start towards modernizing this force. The new law streamlines administration, cuts overall operating costs to the US Government, and allows technicians access to due process.

Concerning due process, technicians do not enjoy the full due process protections guaranteed to other federal employees because current law limits appeals of adverse employment actions to their respective State Adjutants General. As such, these employees cannot appeal to an arbitrator, the Merit Systems Protection Board, the Office of Special Counsel, or even Federal Court, which means they are also not protected as under Federal Whistleblower laws. The result is a program that is often susceptible to fraud, waste, and abuse, and is the only program in the federal government where the person who fires you also hears and decides your appeal.

The changes required by Section 1053 are the start of much-needed reform. The law is based on the independent report prepared by the Center for Naval Analysis at the direction of Congress in section 519 of the 2012 defense bill. It takes a conservative approach and gives National Guard and State authorities the ability to provide input on how the transition should occur, including how best to maintain these employees under the control of State AGs, all while affording them the rights enjoyed by every other federal civilian employee. Section 1053 will allow these employees an opportunity to reach full civilian retirement age, provide access to federal appeal rights, and simultaneously correct other inconsistencies that only affect this small but much-needed workforce.

Thank you for your attention to this very important matter.
Public Comments
Oct 13th, 2016
Tim W. from Sullivan, IN signed.
Oct 13th, 2016
Someone from Bel Air, MD signed.
Oct 13th, 2016
Mike S. from Modesto, CA signed.
Oct 13th, 2016
Someone from Bandon, OR signed.
Oct 13th, 2016
FRANK W. from Saint Robert, MO writes:
Oct 13th, 2016
Gordon S. from Laurel, DE signed.
Oct 12th, 2016
Nina F. from Anderson, CA signed.
Oct 12th, 2016
Rob K. from Tonawanda, NY signed.
Oct 12th, 2016
Joseph M. from Vancouver, WA signed.
Oct 12th, 2016
Someone from Otwell, IN writes:
Military technicians who lose their military status deserve to have their civilian job. In addition the revamp would help with MSPB rights so please continue to convert 20% of the force that are technicians. This change will not affect the ability excepting of my new way for the adjutant General's to react to state emergencies and the governor to support their state. Also, the disparity between AGRs and military technicians needs attention.
Oct 12th, 2016
John B. from Killeen, TX signed.
Oct 12th, 2016
Someone from Riverside, CA signed.
Oct 12th, 2016
Jason M. from Rancho Cordova, CA signed.
Oct 12th, 2016
Someone from Yelm, WA signed.
Oct 12th, 2016
Robert G. from South Elgin, IL signed.
Oct 12th, 2016
Someone from Springfield, IL signed.
Oct 12th, 2016
Zachary B. from Blacksburg, VA writes:
Although not a technician myself, I am both a traditional guardsman and a federal, Title 5, employee. I have personally witnessed numerous abuses of power by dual status supervisors: mostly when attempting to conflate their part-time rank with their full-time employment. Additionally, the disparity of benefits between technicians and other federal employees is shockingly absurd. Finally, I don't really understand the purpose of needing a 'military status' to accomplish the mission of the organization.
Oct 11th, 2016
Someone from Waukee, IA signed.
Oct 11th, 2016
Someone from Oxnard, CA signed.
Oct 11th, 2016
Someone from Stafford, VA signed.
Oct 11th, 2016
Jason P. from Willow Spring, NC writes:
Please leave 1053 alone. DO NOT allow a repeal of any type. Convert the Title 32s so that they have the same chances as other federal employees. Also enforce it on Jan 1st when NGB decides to ignore the law!
Oct 11th, 2016
Jacob A. from Wichita, KS signed.
Oct 11th, 2016
Luana W. from Monticello, IN signed.
Oct 11th, 2016
Christopher G. from Dayton, OH signed.
Oct 11th, 2016
Christopher G. from Dayton, OH signed.
Oct 11th, 2016
Robert E. from Roan Mountain, TN writes:
Title 5 should be left in place. The National Guard Technicians are the most discriminated federal employees. Please research this issue. Most politicians do not realize the injustices to this program.
Oct 11th, 2016
Paul H. from Acworth, GA signed.
Oct 11th, 2016
eric s. from Mount Airy, MD signed.
Oct 11th, 2016
Jimmy A. from Hazen, AR signed.
Oct 11th, 2016
Ryan M. from Hurst, TX writes:
We can't let this happen, or get swept under the rug.
Oct 10th, 2016
Bryan S. from Sullivan, IL writes:
The fact that I've seen title 32 federal technicians loose their jobs just a couple of years short of retirement due to being non-retained on a QRB is reason enough to support this. The dual status requirement for employment is unfair when a person can work 15+ years towards a retirement and loose it to a QRB. Technicians should also be eligible for extension bonuses and Tricare Reserve Select while they are serving. My wife shouldn't have list her 6 year bonus just because she accepted a technician position. AGR are also not eligible for extension bonuses even though their Active Duty counterparts are, it just doesn't make sense and should be changed.
Oct 10th, 2016
Angela R. from Fort Worth, TX writes:
Do something to protect these jobs!
Oct 10th, 2016
Someone from Hanscom Afb, MA writes:
I agree with this. We have lost so many people who were highly qualified and skilled. They had to leave their federal job because their military service had come to an end. When most of these people left their skills and knowledge left the organization and many times those skill set and knowledge were not replaced
Oct 10th, 2016
Dustin R. from Fort Worth, TX writes:
As a Military Tech that is currently looking at losing all forms of income, this is a long overdue change. I have served in the Army for the past 22 years and as a Mil Tech for the past 8 now my state adjutant general is forcing me to retire from the Army and thus lose my Mil Tech well before I have the time needed to retire.
Oct 10th, 2016
Alexander t. from Alvarado, TX signed.
Oct 10th, 2016
Someone from Caldwell, ID writes:
This is too important to ignore
Oct 10th, 2016
Someone from Helena, MT writes:
Title 5 conversion for the National Guard would modernize a now broken system. Once the dust settles after conversion, I think the status quo will stabilize and will not be a detriment to the readiness of forces.
Oct 10th, 2016
Someone from Morganton, NC signed.
Oct 10th, 2016
Chadwick W. from Hampton, FL signed.
Oct 9th, 2016
Donald S. from Bossier City, LA signed.