Stop the Title 5 Repeal!
Messages Sent So Far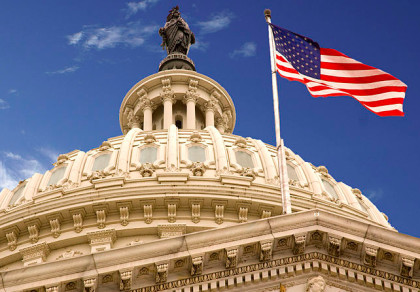 The FY16 NDAA contained Section 1053, a bi-partisan provision that ordered the conversion of no less than 20% of all National Guard (NG) Dual Status technicians (DSTs) from Title 32 to Title 5 employment to begin on January 1, 2017. The National Guard Bureau (NGB), the Adjutant Generals Association (AGAUS), the National Guard Association (NGAUS), and the Council of Governors (CoG) strongly opposed the law and called for its outright repeal citing unsupported claims of increased cost and reduced readiness. Senator John McCain, SASC Chairman, and Senator Jack Reed, SASC Ranking Member, strongly rejected the calls for repeal, and Section 1053 was ultimately included in the 2016 defense bill.

After repeal efforts failed, opponents of Section 1053 asked that language be included in the FY17 NDAA to delay conversion until at least October 1, 2017, under the guise that: 1. It would align the conversion with the beginning of FY18; and, 2. It would allow leaders some time to ensure a smooth transition for affected employees. The House and Senate Armed Services Committees (HASC/SASC) agreed to the proposal as presented, and included draft language in the FY17 NDAA to delay the conversion.

Supporters of Section 1053 warned HASC/SASC, and other members of Congress that calls to delay were merely a veiled attempt to give NGB, AGAUS, NGAUS, and CoG one more crack at repealing Section 1053 in the FY18 NDAA. It appears the warnings were justified as Section 1053 opponents are renewing their push for a full repeal of Section 1053 now, rather than later, during the election season, through the lame duck session, and before the FY17 NDAA is even signed. For the reasons stated below, I strongly urge you to oppose any effort calling for the repeal of Section 1053.

The NG DST program is over 100 years old. I believe the program is outdated, and the changes mandated in Section 1053 are a great start towards modernizing this force. The new law streamlines administration, cuts overall operating costs to the US Government, and allows technicians access to due process.

Concerning due process, technicians do not enjoy the full due process protections guaranteed to other federal employees because current law limits appeals of adverse employment actions to their respective State Adjutants General. As such, these employees cannot appeal to an arbitrator, the Merit Systems Protection Board, the Office of Special Counsel, or even Federal Court, which means they are also not protected as under Federal Whistleblower laws. The result is a program that is often susceptible to fraud, waste, and abuse, and is the only program in the federal government where the person who fires you also hears and decides your appeal.

The changes required by Section 1053 are the start of much-needed reform. The law is based on the independent report prepared by the Center for Naval Analysis at the direction of Congress in section 519 of the 2012 defense bill. It takes a conservative approach and gives National Guard and State authorities the ability to provide input on how the transition should occur, including how best to maintain these employees under the control of State AGs, all while affording them the rights enjoyed by every other federal civilian employee. Section 1053 will allow these employees an opportunity to reach full civilian retirement age, provide access to federal appeal rights, and simultaneously correct other inconsistencies that only affect this small but much-needed workforce.

Thank you for your attention to this very important matter.
Public Comments
Feb 14th, 2017
Someone from Douglasville, GA signed.
Feb 13th, 2017
Someone from Topeka, KS signed.
Feb 10th, 2017
Someone from West Hartford, CT signed.
Feb 10th, 2017
allen m. from sparks, NV signed.
Feb 9th, 2017
Someone from Sioux Falls, SD writes:
The current and expected future optempo of our National Guard makes the expectation of staying in the military until age 56-60 (normal civilian retirement eligibility) unrealistic. This is related to many of the other comments I have read. Because of this, many of our folks are being forced out of their full time positions even though they have served honorably for many years. It is the only situation I know of in which your full time job is contingent on you keeping a part time job and ironically, the requirements for the part-time job are often much more stringent. Add to that the fact that if you are released medically from the military, it automatically qualifies you to receive a civilian medical retirement even if you are fully medically qualified to perform the civilian job. Although this is necessary because of the circumstances, it amounts to a taxpayer ripoff. If you read the NGAUS counter to this, most of it has been addressed in the new 2017 NDAA and most of the rest is simply inaccurate. For example, a counterargument is that the governors have less personnel to respond to state emergencies. This is simply not true as nothing in this conversion has any effect on numbers of military members. Technicians are not activated as civilians, they are activated in their National Guard military capacity. If a technician retires from the military under this authority they will be replaced by another military (often younger and better able to handle the physical demands of an emergency) and that person will be subject to a call-up by the governor. Virtually all of the resistance to this is either from a misunderstanding of the truth or a misrepresentation of the truth.
Feb 8th, 2017
VM from Greenwood, MS writes:
With the modern reduction of the armed forces and as a DS I am looking at least five years left in the Guard to hit my 20, only 10 on the FED side. I think it's unfair that I should have to worry about getting kicked out because I decided to serve my country for the full 20 years, follow orders and leave my family for deployments and worry if I my body can take it for another 20, which barely anybody will see 30+ years anymore unless you are a GO. It's a slap in the face for a dedicated workforce. I support Title 5.
Feb 6th, 2017
Someone from Maple Shade, NJ writes:
With due process long overdue, this modernization of the Federal Technician Workforce is beyond needed.
Feb 6th, 2017
from Somerset, NJ signed.
Feb 6th, 2017
from Browns Mills, NJ signed.
Feb 5th, 2017
Someone from Halethorpe, MD signed.
Feb 2nd, 2017
Someone from Okeana, OH signed.
Feb 1st, 2017
Someone from Wauseon, OH signed.
Jan 30th, 2017
allen m. from sparks, NV signed.
Jan 28th, 2017
Someone from Hattiesburg, MS writes:
After 20 years in the guard a lot of us would love to get out of guard and retain our fed tech job but we are being held hostage by the dual status handcuff. So we clog up slots that a younger man should have in the guard. Its a real incentive killer on both ends.
Jan 25th, 2017
Guillermo M. from Columbia, SC signed.
Jan 25th, 2017
allen m. from sparks, NV signed.
Jan 24th, 2017
Someone from Blackstone, VA writes:
DO NOT repeal!! Please extend to ALL title 32 technicians!
Jan 23rd, 2017
allen m. from sparks, NV signed.
Jan 20th, 2017
allen m. from sparks, NV signed.
Jan 20th, 2017
allen m. from sparks, NV signed.
Jan 19th, 2017
john d. from Madison, TN writes:
I strongly support title 5. I'm a supervisor being forced to non-retain a technician because an O6, who is located at JFHQ 2 hours away and does not directly supervise this airman, refuses to extend him. He meets every requirement of the USAF to serve. He can pass his PT test, has no DAV codes/medical problems, and is a superior performer. He is simply being non-retained because he has over 20 years technician service and 30 years military service. He is 55 years old. The maximum age for the military members without waivers is 60. I also support a moratorium on non-retention of technician forces who are fit for duty until this title 5 business is concluded by congress. i excluded my name for fear of reprisal within my state which has touted 100% officer membership in NGAUS for several years.
Jan 19th, 2017
John L. from Herriman, UT signed.
Jan 18th, 2017
MICHELE H. from ALEXANDRIA, VA signed.
Jan 17th, 2017
allen m. from sparks, NV signed.
Jan 17th, 2017
David M. from Columbia, SC signed.
Jan 13th, 2017
allen m. from sparks, NV signed.
Jan 9th, 2017
David S. from Jackson, TN signed.
Jan 5th, 2017
Someone from Lafayette, TN writes:
This is for the good of the National Guard and greatly helps our older dual status service members, that when in their greying years they are not cast out into the streets, their lively hoods cut short, because they did not pass their PT test and were not able to keep up with the twenty year olds. Let us have a safe place where if we choose we can retire with dignity and respect with a full career not cut short by missing your mile and a half by 15 seconds or because of having bad knees and bones that bore the brunt of service in the defense of our nation for decades.
Jan 5th, 2017
Someone from Lafayette, TN writes:
I support the conversion. It offers a way for older technicians to continue their civil service without fear of non-retention or unfavorable repercussions due to PT failure or medical issues. There are plenty of technicians who are in non-deploying positions and it wouldn't affect the mission to convert them. I would gladly do it so that I can do my job without the never-ending fear of being non-retained because I am getting older or the stress of one day being booted because I cannot pass my PT.
Jan 4th, 2017
allen m. from sparks, NV signed.
Jan 2nd, 2017
ABBY N. from Christiansted, VI writes:
Jan 1st, 2017
Someone from Lacey, WA writes:
So many great points in all comments posted. Adding my support in brief.
Dec 30th, 2016
allen m. from sparks, NV signed.
Dec 27th, 2016
Someone from Gore, VA writes:
I agree that NGAUS is clearly not concerned about all of its members or they would support the Title 5 positions. NGB need to support this also. Bottom line is the AG for each state will not have control over the person.
Dec 27th, 2016
Someone from Scott, AR writes:
Making this change in my opion will not affect organizations as much as they are trying to say. I am already considered a MDay Soldier and being Title 5 will not change that. If you need Soldiers for State Active Duty mission usually the first one called are the MDay Soldiers who are not full time anyway. Just because you would not be in uniform during the work week doesn't stop you from being a Soldier.
Dec 21st, 2016
Someone from North Highlands, CA signed.
Dec 21st, 2016
from Saint Joseph, MO writes:
When a good part of your full time force is a day away from being medically discharged, "non-retained", close to retirement age, or mandatory deployment, this conversion seems like the most logical thing to do to keep the knowledge and maintain mission readiness. It also benefits the traditional workforce as it frees up a lot of top rank. So instead of them being "staff-sergeant for life", there will be many opportunities for upward mobility. To repeal this act helps no one except the bureaucrats fighting against it.
Dec 20th, 2016
Someone from Saint Joseph, MO writes:
NGAUS is clearly not concerned about all of its members. Glad I stopped paying dues.
Dec 20th, 2016
Someone from Saint Joseph, MO writes:
This needs to be passed and finalized. Stop NGB from dragging its feet. Technicians are expected to work all kinds of overtime and on call when off duty without being properly compensated.
Dec 19th, 2016
Someone from Hermitage, TN signed.