Stop the Title 5 Repeal!
Messages Sent So Far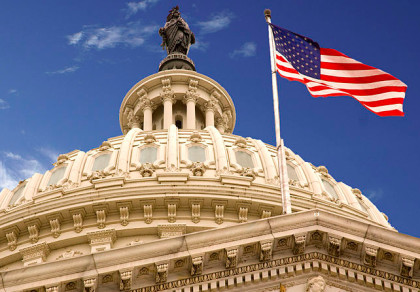 The FY16 NDAA contained Section 1053, a bi-partisan provision that ordered the conversion of no less than 20% of all National Guard (NG) Dual Status technicians (DSTs) from Title 32 to Title 5 employment to begin on January 1, 2017. The National Guard Bureau (NGB), the Adjutant Generals Association (AGAUS), the National Guard Association (NGAUS), and the Council of Governors (CoG) strongly opposed the law and called for its outright repeal citing unsupported claims of increased cost and reduced readiness. Senator John McCain, SASC Chairman, and Senator Jack Reed, SASC Ranking Member, strongly rejected the calls for repeal, and Section 1053 was ultimately included in the 2016 defense bill.

After repeal efforts failed, opponents of Section 1053 asked that language be included in the FY17 NDAA to delay conversion until at least October 1, 2017, under the guise that: 1. It would align the conversion with the beginning of FY18; and, 2. It would allow leaders some time to ensure a smooth transition for affected employees. The House and Senate Armed Services Committees (HASC/SASC) agreed to the proposal as presented, and included draft language in the FY17 NDAA to delay the conversion.

Supporters of Section 1053 warned HASC/SASC, and other members of Congress that calls to delay were merely a veiled attempt to give NGB, AGAUS, NGAUS, and CoG one more crack at repealing Section 1053 in the FY18 NDAA. It appears the warnings were justified as Section 1053 opponents are renewing their push for a full repeal of Section 1053 now, rather than later, during the election season, through the lame duck session, and before the FY17 NDAA is even signed. For the reasons stated below, I strongly urge you to oppose any effort calling for the repeal of Section 1053.

The NG DST program is over 100 years old. I believe the program is outdated, and the changes mandated in Section 1053 are a great start towards modernizing this force. The new law streamlines administration, cuts overall operating costs to the US Government, and allows technicians access to due process.

Concerning due process, technicians do not enjoy the full due process protections guaranteed to other federal employees because current law limits appeals of adverse employment actions to their respective State Adjutants General. As such, these employees cannot appeal to an arbitrator, the Merit Systems Protection Board, the Office of Special Counsel, or even Federal Court, which means they are also not protected as under Federal Whistleblower laws. The result is a program that is often susceptible to fraud, waste, and abuse, and is the only program in the federal government where the person who fires you also hears and decides your appeal.

The changes required by Section 1053 are the start of much-needed reform. The law is based on the independent report prepared by the Center for Naval Analysis at the direction of Congress in section 519 of the 2012 defense bill. It takes a conservative approach and gives National Guard and State authorities the ability to provide input on how the transition should occur, including how best to maintain these employees under the control of State AGs, all while affording them the rights enjoyed by every other federal civilian employee. Section 1053 will allow these employees an opportunity to reach full civilian retirement age, provide access to federal appeal rights, and simultaneously correct other inconsistencies that only affect this small but much-needed workforce.

Thank you for your attention to this very important matter.
Public Comments
Jul 26th, 2017
Someone from Nampa, ID writes:
The 2018 NDA portion of the Title 5 conversion shows that the House bill reducing the conversion rate from 20% to 4.8 % annually. The bill should remain at 20%. This is measure to put the brakes on the inevitable and drag the cost savings of the conversion down the road.
Jul 26th, 2017
Someone from Nampa, ID writes:
The reason the governors want to keep Title 32 Technician is so they can pay their state technicians out of the discretionary portion of the title 32 funding. They do not have the budget in place to keep those State Military technicians.
Jul 26th, 2017
Someone from Noblesville, IN writes:
Please make Title 5 happen. It is so demoralizing to hear of the pushback after years of being told we are going Title 5. I have no intension of leaving the National Guard and I know very few who plan too. Title 5 will mean stability and allow for fair processes to occur. Please make this happen. Also, It would be nice to no longer have to maintain the uniform you are not paid to maintain or no longer see the rank on your chest that the AGR Soldier right next to you is making quite a bit more then you are for the same job. As a civilian, it is just that, a civilian.
Jul 25th, 2017
Alicia T. from Colchester, VT signed.
Jul 25th, 2017
Someone from Fuquay Varina, NC writes:
Title 5 needs to happen. There is no justifiable reason why it should not go forward. It would be nice to know that after 20 years of service to the National Guard, (I've done 11 years with an OIF and OEF deployment, and I plan on staying for 20 years) I would able to retire and retain my civilian position. Plus, it would be nice to have access to Tri Care, get re-enlistment bonuses, and have a fair appeals process just like any other Federal Employee that happens to be in the National Guard. Only makes sense. I guess that's why this is such a ridiculous concept to some people, it makes sense!
Jul 25th, 2017
Someone from Wichita, KS signed.
Jul 24th, 2017
allen m. from Sparks, NV signed.
Jul 24th, 2017
Concerned T. from Indianapolis, IN writes:
Can we have an update on the current NDAA 2018! It appears that the repeal/change of the NDAA 2016 and NDAA 2017 is alive and well! Additionally, what is this notion from NGB about Title 5 excepted service?
Jul 17th, 2017
Allen A. from Shafter, CA writes:
Just being a duel status Technician you have already committed yourself and your family to making the Army National Guard a paramount service. By changing to Title 5, Commanders and AG's will have the added Institutional knowledge and resource to train up and coming soldiers. In my 30+ years as an Army Technician I never met a good Technician that didn't enjoy training soldiers. And I was involved with many states. Over the years I saw many Technicians not make the QRB because the Commander was more concerned with his promotion than what was "Good for the Guard". And the Technician had no recourse for appeal. Let's get this change done. Allen Anderson MSG (USA retired)
Jul 17th, 2017
Damon L. from Boise, ID signed.
Jul 17th, 2017
Marc S. from Lawrence Township, NJ writes:
This conversion is in order to support one of the most dedicated work forces. Leaders should not withhold our basic rights to due process and job security. Let the Title 5 conversion take affect as mandated by the NDAA. Certain leaders feel that it will have an adverse effect on readiness but this reliance of the technician work force was never a sustainable model to begin with. Not to mention it is down right unethical to utilize this work force to meet missions that clearly fall outside the scope of our position descriptions.
Jul 10th, 2017
Brandon K. from Norwood, NC signed.
Jul 7th, 2017
Someone from Melrose, NY writes:
Let T5 go through. We deserve job security past 20 years of service!
Jul 6th, 2017
Brian L. from San Luis Obispo, CA writes:
I firmly believe as a CANG 17 year Title 32 technician. Conversion of Title 32 technicians to Title 5 will increase strength and readiness and will allow current dual-status technicians to support the war effort beyond their 60th birthday when they are forced to retire from the service. THIS IS THE RIGHT THING TO DO!
Jul 6th, 2017
Someone from Flowood, MS writes:
I sure find it funny that NGB and the AG's don't want to change, but all the Technicians do? Time for a change!!!
Jul 3rd, 2017
Shawn K. from Louisville, KY signed.
Jun 30th, 2017
Michael K. from Lagrange, ME writes:
I urge you to refuse efforts to change the law, as it was passed last year, on this issue. Any arguments for change are about 'control,' not readiness. Conversion of Title 32 technicians to Title 5 will increase strength and readiness and will allow current dual-status technicians to support the war effort beyond their 60th birthday when they are forced to retire from the service.
Jun 30th, 2017
Michael K. from Lagrange, ME writes:
As the other comments explain, this conversion will INCREASE readiness, not decrease readiness.
Jun 27th, 2017
Someone from Hernando, MS signed.
Jun 27th, 2017
Someone from Bismarck, ND writes:
Opponents of the Title 5 conversion claim this will degreed readiness. As a 20 year technician I can tell you it will help readiness. Currently when a dual status technician deploys it leaves a vacancy in their full time position. Other employees in the office have to do the work of the person deployed. A full civilian Title 5 employee will not deploy, either for federal or state duty. This will allow an M-Day Soldier to fill the deployed position, and the full-time employee can continue to support the war fighters doing their full-time job without interruption. In addition, most will stay in the military at least until they hit their 20 years. If the person is a Title 5 employees who decides to stay in the military nothing changes. So all the arguments saying it degrades readiness is very far from the truth. If these title 5 employees retire from the military and stay as full-time title 5 employees, readiness is helped. Both for the military and federal position. More efficient to have an employee do one position instead of trying to do two, and gone from both all the time. Thanks!
Jun 27th, 2017
Eric L. from Fresno, CA signed.
Jun 26th, 2017
Calos H. from Clovis, CA signed.
Jun 26th, 2017
Steven D. from Brunson, SC writes:
This Issue needs to be addressed
Jun 25th, 2017
Steven B. from Lincoln, NE signed.
Jun 22nd, 2017
Someone from East Nassau, NY signed.
Jun 15th, 2017
Gina W. from Maricopa, AZ signed.
Jun 15th, 2017
Someone from Wasilla, AK writes:
I have served in the National Guard for 22 years, but only been a technician for 11 years. I have meet all requirements to retire from the National Guard, however I have 19 more years until I meet my technician retirement. I have already started going through the QRB's which could eventually lead to my non-retention in the National Guard and cost me my civilian job and retirement. I would say that is one hell of a way to thank those that serve our country that after dedicated serves we not only get kicked out of the military but lose our way of life at the same time. I do believe there needs to be stipulations on going title 5 though. My opinion is that in order to earn a title 5 position the individual should have to successively meet the required time to retire from the military (20 years). once this is meet they should be able to continue their service as title 5. I personally will remain in the military until I am QRB out. However it would take a load of stress off of me as well as others not to have to worry about my civilian job at the same time as trying to serve my country.
Jun 15th, 2017
Julio R. from Casa Grande, AZ signed.
Jun 15th, 2017
Someone from Incline Village, NV signed.
Jun 15th, 2017
Humberto M. from Peoria, AZ signed.
Jun 15th, 2017
Angelica D. from Phoenix, AZ signed.
Jun 15th, 2017
Justin G. from Casa Grande, AZ signed.
Jun 14th, 2017
Someone from Falling Waters, WV writes:
Been a Technician dual status title 32 for 30 years. At end of my career there are concerns of being SRB and being forced out of the military. If this happens, I will lose my fulltime position. I am not ready to retire and see title 5 non-dual status as a way to continue serving my country and unit. Asking you all to stop the repeal of title 5.
Jun 14th, 2017
Mike M. from Ada, MI signed.
Jun 7th, 2017
Caje D. from Sherwood, AR writes:
The current systems leaves some individuals with many years invested (such as myself) in a bad situation, with no good solution. Title 5 would solve those issues for us.
Jun 4th, 2017
Courtney K. from Tucson, AZ signed.
Jun 2nd, 2017
Diego S. from Queen Creek, AZ signed.
Jun 2nd, 2017
Herbert V. from Tucson, AZ signed.
Jun 1st, 2017
Someone from Casa Grande, AZ signed.
Jun 1st, 2017
Someone from Red Rock, AZ signed.