Stop the Title 5 Repeal!
Messages Sent So Far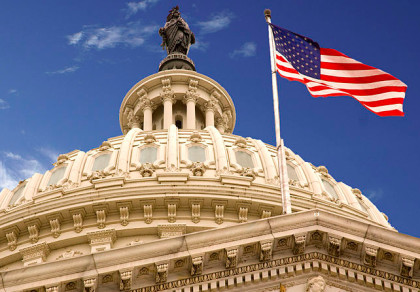 The FY16 NDAA contained Section 1053, a bi-partisan provision that ordered the conversion of no less than 20% of all National Guard (NG) Dual Status technicians (DSTs) from Title 32 to Title 5 employment to begin on January 1, 2017. The National Guard Bureau (NGB), the Adjutant Generals Association (AGAUS), the National Guard Association (NGAUS), and the Council of Governors (CoG) strongly opposed the law and called for its outright repeal citing unsupported claims of increased cost and reduced readiness. Senator John McCain, SASC Chairman, and Senator Jack Reed, SASC Ranking Member, strongly rejected the calls for repeal, and Section 1053 was ultimately included in the 2016 defense bill.

After repeal efforts failed, opponents of Section 1053 asked that language be included in the FY17 NDAA to delay conversion until at least October 1, 2017, under the guise that: 1. It would align the conversion with the beginning of FY18; and, 2. It would allow leaders some time to ensure a smooth transition for affected employees. The House and Senate Armed Services Committees (HASC/SASC) agreed to the proposal as presented, and included draft language in the FY17 NDAA to delay the conversion.

Supporters of Section 1053 warned HASC/SASC, and other members of Congress that calls to delay were merely a veiled attempt to give NGB, AGAUS, NGAUS, and CoG one more crack at repealing Section 1053 in the FY18 NDAA. It appears the warnings were justified as Section 1053 opponents are renewing their push for a full repeal of Section 1053 now, rather than later, during the election season, through the lame duck session, and before the FY17 NDAA is even signed. For the reasons stated below, I strongly urge you to oppose any effort calling for the repeal of Section 1053.

The NG DST program is over 100 years old. I believe the program is outdated, and the changes mandated in Section 1053 are a great start towards modernizing this force. The new law streamlines administration, cuts overall operating costs to the US Government, and allows technicians access to due process.

Concerning due process, technicians do not enjoy the full due process protections guaranteed to other federal employees because current law limits appeals of adverse employment actions to their respective State Adjutants General. As such, these employees cannot appeal to an arbitrator, the Merit Systems Protection Board, the Office of Special Counsel, or even Federal Court, which means they are also not protected as under Federal Whistleblower laws. The result is a program that is often susceptible to fraud, waste, and abuse, and is the only program in the federal government where the person who fires you also hears and decides your appeal.

The changes required by Section 1053 are the start of much-needed reform. The law is based on the independent report prepared by the Center for Naval Analysis at the direction of Congress in section 519 of the 2012 defense bill. It takes a conservative approach and gives National Guard and State authorities the ability to provide input on how the transition should occur, including how best to maintain these employees under the control of State AGs, all while affording them the rights enjoyed by every other federal civilian employee. Section 1053 will allow these employees an opportunity to reach full civilian retirement age, provide access to federal appeal rights, and simultaneously correct other inconsistencies that only affect this small but much-needed workforce.

Thank you for your attention to this very important matter.
Public Comments
Oct 4th, 2016
Christopher L. from Wyandotte, MI signed.
Oct 4th, 2016
Daniel W. from Albuquerque, NM signed.
Oct 4th, 2016
Someone from Sonoma, CA signed.
Oct 4th, 2016
Someone from Albuquerque, NM writes:
I am a Technician in the NM Air National Guard. Please do not repeal the Title 5 provision in FY-16 NDAA Section 1053. After 25 years of service, I believe I deserve a fair shake at retirement, without worrying about being separated at the whim of one commander.
Oct 4th, 2016
Daniel O. from Harrison Township, MI signed.
Oct 4th, 2016
Someone from Ball, LA writes:
I need this. We want our NG benifits back. Tricare back. Bonuses back. Our enlistment options back. Not to have this job used as a club to force us to do things others don't.
Oct 4th, 2016
Someone from Linden, MI signed.
Oct 4th, 2016
David M. from South Haven, MI writes:
Why are we allowing the Ag's to trump congress and the law?
Oct 4th, 2016
Frank M. from Santa Rosa, CA writes:
It has been way to long since there has been any changes to the technician program. As it stands the system is very unfair and people don't want to stay. Our shop looses Mechanics and Admin alike regularly to ADOS orders, Deployments, and AGR positions. Simply put we get paid far less then ADOS and AGR for doing the same job. TAG's around the nation don't want to support this because we are cheap labor. It's basically Legal Slavery. We all just want fair and equal treatment for doing the same job. Lets not forget that the technician program requires at least 25 years of employment to be fully vested for retirement. After 20 years in the military we are subject to EQRB. And with restrictions like grade inversion, promotion availabilities, cut backs on slots in units etc... It becomes increasingly difficult for technicians to stay in past their 20 years. Especially when most technicians do not even start their careers until they have had around 10 years in the military. The system is very well designed to ensure that very few technicians will actually reach their 25 years.
Oct 4th, 2016
Ryan H. from Slidell, LA signed.
Oct 4th, 2016
Someone from Carson City, NV writes:
I feel that if the right employees are selected to convert, there will be no detriment to the readiness of the National Guard. We are regularly crippled by mobilizations, the most recent for my State was a Signal Company mobilization. We lost virtual all of our G6 staff, and one of the critical full time technicians not on that mobilization retired from the National Guard, we could have retained a valuable employee had his position been converted to Title 5. That is just one instance that I can think of off the top of my head.
Oct 4th, 2016
Jaline M. from Westland, MI signed.
Oct 4th, 2016
Mark R. from New Baltimore, MI writes:
I strongly support the title 5 conversion. There will finally be a clear line as to us being civilian or military. This will allow us technician to finally be treated as a civilian employee rather than the National Guard's "whipping boy", deciding to treat us as military of civilian when it benefits National Guard Bureau's agenda
Oct 4th, 2016
Levon M. from Westland, MI signed.
Oct 4th, 2016
Vanny P. from Cary, IL writes:
It's a struggle to manage both our Fed tech jobs and our military career, title 5 will allow us to really separate military career from out civilians careers.
Oct 4th, 2016
emmanuel b. from Highland Park, IL signed.
Oct 4th, 2016
Bret T. from Minooka, IL signed.
Oct 4th, 2016
Jeff B. from Carlisle, AR writes:
There needs to be changes in the technician program it is long past due!
Oct 4th, 2016
James R. from Hernando, MS writes:
Strongly support conversion to Title 5. This will save money and avoid duplication of personnel systems.
Oct 4th, 2016
Willie H. from Alexander, AR writes:
Arkansas Guardsmen are in favor of the conversion of Title 32 to Title 5 dual status technicians
Oct 4th, 2016
Emily Y. from Stockton, CA signed.
Oct 4th, 2016
Randall B. from Westwego, LA signed.
Oct 4th, 2016
Donald D. from Green Sea, SC signed.
Oct 4th, 2016
Kenneth V. from Lawrenceburg, KY writes:
There must be a change to the antiquated system known as Title 32 dual status technician. Repealing the conversion to Title 5 ultimately affects the employee and will only keep a broken system of business. Keep the path towards Title 5 conversion. It is not only the smart thing to do, but the right thing to do.
Oct 4th, 2016
Mike N. from Mount Pleasant, SC signed.
Oct 4th, 2016
Bruce J. from Mansura, LA signed.
Oct 4th, 2016
Someone from Cambridge, WI writes:
The technician program is outdated and causes anger and confusion for supervisors and workers alike, countless hours are wasted trying to figure out pay status and benefits. This change is long overdue!
Oct 4th, 2016
Lee S. from Lexington, SC signed.
Oct 4th, 2016
Phillip L. from Romeoville, IL writes:
I got retired from the military after 26 years of service, 20 in the Guard then they forced me out of my full time Federal Technician job before i could retire. Great system they have!
Oct 4th, 2016
Kevin K. from Valley Springs, CA signed.
Oct 3rd, 2016
James S. from Deerfield, MI signed.
Oct 3rd, 2016
Dustin L. from Metairie, LA signed.
Oct 3rd, 2016
Ryan C. from Stockton, CA signed.
Oct 3rd, 2016
Tyler M. from Sacramento, CA signed.
Oct 3rd, 2016
William H. from Baton Rouge, LA signed.
Oct 3rd, 2016
Someone from Cissna Park, IL signed.
Oct 3rd, 2016
Randy M. from Sacramento, CA signed.
Oct 3rd, 2016
William P. from Cabot, AR signed.
Oct 3rd, 2016
Kenneth B. from Alto, MI writes:
As a Technician and M-day side, having Techs on the FERS retirement plan (retire at age 55-60), and M-day at 20 years (age 37-47), there is in inherent time where technicians get stacked up at higher ranks, which prevent other, sometimes better soldiers who have chosen other civilian careers, from getting promoted. Title 5 allows a 20yr vet to retire from the Guard and retain his civilian job, which allows other soldiers to get promoted.
Oct 3rd, 2016
Steven A. from Woodland, CA signed.