Stop the Title 5 Repeal!
Messages Sent So Far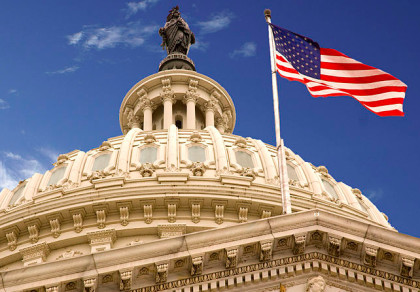 The FY16 NDAA contained Section 1053, a bi-partisan provision that ordered the conversion of no less than 20% of all National Guard (NG) Dual Status technicians (DSTs) from Title 32 to Title 5 employment to begin on January 1, 2017. The National Guard Bureau (NGB), the Adjutant Generals Association (AGAUS), the National Guard Association (NGAUS), and the Council of Governors (CoG) strongly opposed the law and called for its outright repeal citing unsupported claims of increased cost and reduced readiness. Senator John McCain, SASC Chairman, and Senator Jack Reed, SASC Ranking Member, strongly rejected the calls for repeal, and Section 1053 was ultimately included in the 2016 defense bill.

After repeal efforts failed, opponents of Section 1053 asked that language be included in the FY17 NDAA to delay conversion until at least October 1, 2017, under the guise that: 1. It would align the conversion with the beginning of FY18; and, 2. It would allow leaders some time to ensure a smooth transition for affected employees. The House and Senate Armed Services Committees (HASC/SASC) agreed to the proposal as presented, and included draft language in the FY17 NDAA to delay the conversion.

Supporters of Section 1053 warned HASC/SASC, and other members of Congress that calls to delay were merely a veiled attempt to give NGB, AGAUS, NGAUS, and CoG one more crack at repealing Section 1053 in the FY18 NDAA. It appears the warnings were justified as Section 1053 opponents are renewing their push for a full repeal of Section 1053 now, rather than later, during the election season, through the lame duck session, and before the FY17 NDAA is even signed. For the reasons stated below, I strongly urge you to oppose any effort calling for the repeal of Section 1053.

The NG DST program is over 100 years old. I believe the program is outdated, and the changes mandated in Section 1053 are a great start towards modernizing this force. The new law streamlines administration, cuts overall operating costs to the US Government, and allows technicians access to due process.

Concerning due process, technicians do not enjoy the full due process protections guaranteed to other federal employees because current law limits appeals of adverse employment actions to their respective State Adjutants General. As such, these employees cannot appeal to an arbitrator, the Merit Systems Protection Board, the Office of Special Counsel, or even Federal Court, which means they are also not protected as under Federal Whistleblower laws. The result is a program that is often susceptible to fraud, waste, and abuse, and is the only program in the federal government where the person who fires you also hears and decides your appeal.

The changes required by Section 1053 are the start of much-needed reform. The law is based on the independent report prepared by the Center for Naval Analysis at the direction of Congress in section 519 of the 2012 defense bill. It takes a conservative approach and gives National Guard and State authorities the ability to provide input on how the transition should occur, including how best to maintain these employees under the control of State AGs, all while affording them the rights enjoyed by every other federal civilian employee. Section 1053 will allow these employees an opportunity to reach full civilian retirement age, provide access to federal appeal rights, and simultaneously correct other inconsistencies that only affect this small but much-needed workforce.

Thank you for your attention to this very important matter.
Public Comments
Oct 4th, 2016
Mike N. from Mount Pleasant, SC signed.
Oct 4th, 2016
Bruce J. from Mansura, LA signed.
Oct 4th, 2016
Someone from Cambridge, WI writes:
The technician program is outdated and causes anger and confusion for supervisors and workers alike, countless hours are wasted trying to figure out pay status and benefits. This change is long overdue!
Oct 4th, 2016
Lee S. from Lexington, SC signed.
Oct 4th, 2016
Phillip L. from Romeoville, IL writes:
I got retired from the military after 26 years of service, 20 in the Guard then they forced me out of my full time Federal Technician job before i could retire. Great system they have!
Oct 4th, 2016
Kevin K. from Valley Springs, CA signed.
Oct 3rd, 2016
James S. from Deerfield, MI signed.
Oct 3rd, 2016
Dustin L. from Metairie, LA signed.
Oct 3rd, 2016
Ryan C. from Stockton, CA signed.
Oct 3rd, 2016
Tyler M. from Sacramento, CA signed.
Oct 3rd, 2016
William H. from Baton Rouge, LA signed.
Oct 3rd, 2016
Someone from Cissna Park, IL signed.
Oct 3rd, 2016
Randy M. from Sacramento, CA signed.
Oct 3rd, 2016
William P. from Cabot, AR signed.
Oct 3rd, 2016
Kenneth B. from Alto, MI writes:
As a Technician and M-day side, having Techs on the FERS retirement plan (retire at age 55-60), and M-day at 20 years (age 37-47), there is in inherent time where technicians get stacked up at higher ranks, which prevent other, sometimes better soldiers who have chosen other civilian careers, from getting promoted. Title 5 allows a 20yr vet to retire from the Guard and retain his civilian job, which allows other soldiers to get promoted.
Oct 3rd, 2016
Steven A. from Woodland, CA signed.
Oct 3rd, 2016
Stafford R. from Violet, LA writes:
This will help me continue to take care of my family. Once my military service is over my job as a tech end also no matter whose decision it is.
Oct 3rd, 2016
Someone from Chicago, IL signed.
Oct 3rd, 2016
Roberta C. from Zanesville, OH signed.
Oct 3rd, 2016
Edgar G. from Oak Lawn, IL signed.
Oct 3rd, 2016
Robert D. from Springfield, IL signed.
Oct 3rd, 2016
Maryah O. from Ward, AR signed.
Oct 3rd, 2016
James S. from Deerfield, MI writes:
Please don't repeal ! I am a medically retired technician due to injury or illness due to my tours of duty in Iraq . I could not keep my job as a tech because I was not fit for my military duties. I was still able to work but because we have to have our military status to keep our job as a title 32 technician I lost my employment along with many others....
Oct 3rd, 2016
Catherine C. from Tinley Park, IL signed.
Oct 3rd, 2016
Jacob B. from Marysville, CA signed.
Oct 3rd, 2016
Christopher C. from Raleigh, NC signed.
Oct 3rd, 2016
Christopher C. from Raleigh, NC writes:
In a time when we need as many people employed, this will open up many opportunities for Dual Status to stay employed longer with their current line of work. If a soldier medically separates from the Uniform Service, or if there is a drawn down of Uniformed Personnel, the Dual Status Technician has to leave the Technician program. This act allows him or her to stay and collect a retirement and still continue to work as a Title 5 tech. I want to stay employed as long as I can in any capacity. I love what I do.
Oct 3rd, 2016
Kelby B. from New Orleans, LA writes:
Don't repeal an opportunity to keep experienced technicians to train Guardsman.
Oct 3rd, 2016
Brian C. from Lafitte, LA signed.
Oct 3rd, 2016
Someone from Eastover, SC writes:
Title 5 is cheaper on the tax payers, gives 20+ year technicians more options with their families and life and definitely will improve moral. In no way will this Act affect readiness to this country at 20%.
Oct 3rd, 2016
Byron B. from Destrehan, LA signed.
Oct 3rd, 2016
Byron B. from Destrehan, LA signed.
Oct 3rd, 2016
Steven P. from Ontario, CA writes:
Please, we need this! We lose great employees due to injury or illness that the Guard deems to be unfit for the military. If I were to fall into this category, I could still do my day job even though I could no longer be a soldier. This is good for morale and for the force. Why lose qualified, trained technicians due to someone that has failed a PT test, or does not meet height/weight standards that are outdated? It also gives employees like myself an option to retire from the Guard at 20 years but retain a career and income.
Oct 3rd, 2016
Richard H. from Rainier, WA signed.
Oct 3rd, 2016
Marcus M. from Albuquerque, NM signed.
Oct 3rd, 2016
Bonnie M. from Jacksonville, AR writes:
I have served my country for 36 years as well as the Federal Government for 31 years. Both have been extremely beneficial to me and has provided me with a comfortable living. If I were to become Title 5 I would not leave the Reserve but remain because my duty to my country is a two-fold mission and I am a public servant in both capacities. However I would like the option that when I reach the age of 60 a mere 6 years from now, I can remain in my Federal Career and continue to serve my country in a civilian capacity just as I fully served my country for what will be total of 42 years upon reaching age 60. Becoming a Title 5 does not mean "jumping ship" and leaving my military service at this point however it does mean giving me full due protection processes and benefits that are guaranteed to other Federal employes and more so because I served in a dual status and to deny myself and others our full due process protections because of a political power struggle or for any other reason that is not in the Technician's best interest is quite unfair. Thank you
Oct 3rd, 2016
edward p. from Grayling, MI signed.
Oct 3rd, 2016
Someone from Box Elder, SD signed.
Oct 3rd, 2016
Frederick H. from Elmhurst, IL writes:
The rules that govern the dual-status military technician program have not been changed for many years there is no need for a dual status in these positions
Oct 3rd, 2016
Someone from Romeoville, IL signed.