Reform Retransmission Consent: End The Broadcaster Blackouts Now
Messages Sent So Far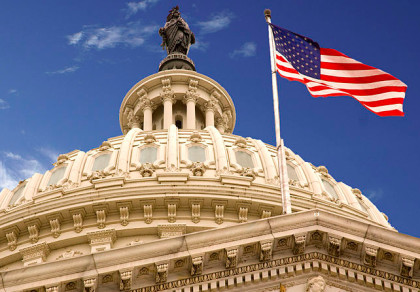 The 2010s has not been very kind to the cable and satellite television industry, one of the issues is Broadcaster Blackouts thanks to a controversial provision from a 25 year old law called THE 1992 CABLE ACT that caused blackouts today...Retransmission Consent. <br />
<br />
Retransmission Consent is a cancer to Pay-TV industry that the FCC and Lawmakers need to find a cure.<br />
<br />
Please protect cable and satellite TV consumers (especially in those who live in bad over-the-air TV reception areas) from Broadcaster Blackouts. End the Broadcaster Blackouts once and for all. The TV viewers still comes first when they watch their favorite network TV shows, local news, national news, weather, and sports.
Post Public Comments
Public Comments (1)
Mar 3rd, 2017
James C. from Duncan, NE writes:
The disputes are mainly wanting cable, satellite, and telcos to pay the increase in retransmission consent fees and how much it wants to pay for the TV stations to help pay down all the debts for the improvements over at the TV stations including for the rights for $1.00-2.00 per month to NBC for reverse compensation under Comcast; $1.00-2.00 per month to CBS for reverse compensation; $1.00-2.00 per month to ABC for reverse compensation under Disney; $1.00-2.00 per month to FOX for reverse compensation under 21st Century Fox; $1.00-2.00 per month to CW for reverse compensation; up to $1.00-2.00 per month for using ATV Broadcast, Duane Lammers firm Max Retrans, or one of the other consultants broadcasters and broadcasting groups uses to assist broadcasters and broadcasting groups with handling the negotiations to negotiate retransmission consent negotiations with cable, satellite, and telcos; up to $1.00-2.00 per month for various miscellaneous items and stuff and things including syndicated programming, pay TV stations for being connected to fiber optic cable line networks allowing the TV stations to be connected to the cable headend, satellite headend, and teleco headend, pay for equipment allowing the local TV station to be able to encode captioning on local newscasts and various live events, pay for updating all weather equipment to serve TV viewers even during poor weather conditions, pay employees equal salaries and wages, utilities, finance payments, property taxes, FCC-related legal expenses including paying fines to the FCC for engaging in various violations and various other civil penalty offenses, enhanced heightened security at the TV stations and at broadcasters and broadcasting groups headquarters, pay property insurance that help the TV station to be able to replaced damages to the TV station studio facility and equipment, pay health care insurance that are costs to the employees through the Affordable Care Act known as Obamacare, also would likely want the fees going to help purchase brand new encoders and encoding equipment including video encoders that allow TV stations to live streamed all of the TV stations newscasts and various local events online from the TV stations website and from livestream, broadcasting equipment that would allow Hearst stations using Dual HD with 2 of the Big 4 both in HDTV and a single or dual Little 2/independent in SDTV thanks to improvements in encoders and encoding equipment and other equipment allowing broadcasters and TV stations to be able to transmit 2 1080 or 720 HDTV feeds(either 1 1080 HDTV and 1 720 HDTV feeds on a single RF channel, 2 1080 HDTV feeds on a single RF channel , or 2 720 HDTV feeds on a single RF channel) and 1 to 4 480 SDTV feeds being transmitted on a single TV station digital RF channel and fully upgrade to full HDTV facilities from deal-making with hardware and program vendors, preparing to pay for all brand new equipment for the TV stations to be able to share with another TV station when the incentive auction starts as part of the beginning of the spectrum auction, channel sharing, and channel repacking that started on March 29, 2016 to be able to fully make the transition to fully upgrade to ATSC 3.0 to allow to produce content in 4KTV or 8KTV in the UHDTV format in a few years in the future as part of the ongoing incentive auction, to help launch down payments to possibly pursue in acquiring various TV stations when they are being put up for sale to be bought out by a TV station group or operator; all in all for the total average cost of the average TV station being up to $3.00-6.00 per month from each subscriber every month by engaging in old rigid Paramount Pictures block booking & blind bidding by tying and old RKO General bribery & dishonest behavioral practices.