America First! Terminate Don't Renegotiate NAFTA!
Messages Sent So Far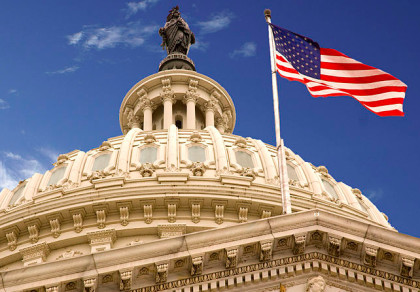 President Trump originally planned to terminate U.S. involvement in NAFTA. He has now, under pressure from globalists, decided to renegotiate NAFTA. We respectfully demand an Amexit from NAFTA. Just as the #Brexit from the European Union (EU) freed Britain from that globalist trap, an Amexit from NAFTA will defeat globalist plans for a North American Union (NAU). We must NOT renegotiate NAFTA! We must #Amexit NAFTA ! NAFTA NOW • Decreased standard of living • Nearly a million jobs exported • America's manufacturing base decimated • NAFTA court overriding U.S. laws and courts • Foundation for a North American Union modeled after the socialist European Union NAFTA RENEGOTIATED • Further suppressed wages and leveling of Mexican, Canadian and U.S. economies • Un-elected foreign bureaucrats regulating businesses and entrepreneurs • Expanded and "aggressive enforcement" of bureaucratic environmental and business regulations • Merger of police and military for North America A modernized NAFTA is bad for U.S. jobs and bad for U.S. sovereignty! President Trump and members of Congress, we who elected you, urge you to PUT AMERICA FIRST! Amexit NAFTA! Don't renegotiate! For more information go to jbs.org.
Post Public Comments
Public Comments (16)
1 day ago
Someone from Hickory, NC writes:
Not only get US out of NAFTA but get US out of the U.N.
1 day ago
Someone from Hickory, NC writes:
Not only get US out of NAFTA but get US out of the U.N.
Jul 18th, 2017
Someone from Lancaster, PA signed.
Jul 12th, 2017
Stephen J. from Philadelphia, PA writes:
Mr. President, you were elected on the platform of make America great again. You were not elected by the people of Canada or Mexico, please make America great again, do not renegotiate NAFTA, Terminate. Thank you and God bless
Jul 12th, 2017
Ralph S. from Hortonville, WI writes:
NAFTA is only a precursor to a North American Union (NAU)!. Please get us OUT of NAFTA. NO RE-NEGOTIATION! AMERICA FIRST!!
Jul 11th, 2017
Noah M. from East Longmeadow, MA signed.
Jul 10th, 2017
David S. from Grand Prairie, TX signed.
Jul 7th, 2017
Martin F. from Ephrata, WA writes:
Jun 28th, 2017
Alain G. from Hialeah, FL writes:
Peace commerce and honest friendship with all nations but no entangling alliances, American sovereignty
Jun 27th, 2017
Roger P. from Stockton, CA writes:
There were many illegal organizations put in place after 911, Its time to get rid of them and stand up for America or our last election was worthless and we have elected the wrong person again as we have done for the past 50 years!!!