Please support H. R. 1262
Messages Sent So Far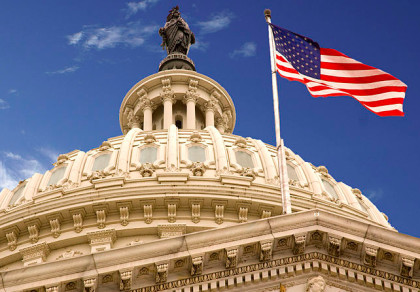 Congressman Gerry Connolly (D-VA) has taken the next step to ensure the USPS a profitable future by introducing H.R. 1262, the Reform the Postal Service for the 21st Century Act. Connolly?s bill has the insight to move the Postal Service forward by allowing it to modernize its business model and expand volume and revenue. H.R. 1262 takes the focus away from cutting services in order to deal with congressionally mandated payments to the PSRHBF and instead focuses on how to better utilize the Postal Service?s networks <br />
<br />
Some of the bill?s highlights allow the USPS to: <br />
<br />
? Increase revenue by selling non-postal products in retail locations. <br />
<br />
? Co-locate postal facilities in other non-postal retail facilities to increase convenience to customers, provided that all employees would remain USPS employees. <br />
<br />
? Pursue new marketing strategies to attract new business and increase mail volumes by expanding voting by mail throughout the country, creating packages of products and services to market towards small businesses, and by offering discounts on packages for small businesses as well. <br />
<br />
? Replace its vehicle fleet with Electronic Motor Vehicles (EMV) by creating a separate borrowing authority for EMVs specifically, so that EMVs would not count against its current statutory debt limit. <br />
<br />
Please support H.R. 1262 as a comprehensive approach to modernizing the Postal Service.
Post Public Comments
Public Comments (10)
Feb 16th, 2012
Someone from Tuckerton, NJ writes:
DO NOT SUPPORT HR-3813. DO NOT ELIMINATE the FERs SUPPLIMENTAL ANNUITY PLEASE.
Feb 13th, 2012
Someone from State College, PA signed.
Feb 10th, 2012
Someone from Louisville, KY signed.
Feb 10th, 2012
Someone from Sumner, WA signed.
Feb 10th, 2012
Someone from Port Ludlow, WA writes:
President Obama Please! So much is at risk in this situation, help us!!!! Make this viable. Give the Postal Service the freedom to change our business structure and keep us viable into the future!!!!! Saturday closure for all Postal Retail facilities is a NO BRAINER!!!
Feb 10th, 2012
Someone from Augusta, KS writes:
drop saturday delivery (that's a no-brainer) offer early outs to get rid of the overpaid and eliminate waste
Feb 10th, 2012
Someone from Detroit, MI writes:
Please save the postal jobs. Thanks
Feb 10th, 2012
Someone from Maynard, AR writes:
It is a sad day when the Postal Service wants to add to the unemployment problem. I am asking that you support a bill that will allow the Post Offices to perform and sale other services to increase their revenue. Putting thousands out of work to draw unemployment is not the answer.
Feb 10th, 2012
Someone from Pontotoc, MS writes:
Please help save the most trusted government agency that can be used by all Americans regardless of class.
Jan 18th, 2012
Someone from Lake George, MI signed.